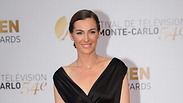 Ayelet Zurer in Monte Carlo
Photo: Getty Images
Israeli series "Hostages" won the Best International Drama Series award at the 54th annual Golden Nymph Awards ceremony held in Monaco last week as part of the Monte Carlo Television Festival.

"Hostages" lead actress, Ayelet Zurer, took home the Best Actor in a Drama Series award.

Interview

Raz Shechnik and Nevo Ziv

Successful Israeli actress talks about being 41 in an industry obsessed with youth, her 'wild life' during her 20s and working with Tom Hanks.

The 10-episode series, created by Rotem Shamir and Omri Givon, was broadcast on Israel's Channel 10. It tells the story of the Danon family members who are kidnapped and held hostage by four people and get caught in a political conspiracy.

The mother (played by Zurer) is a senior and highly esteemed surgeon who is ordered by the kidnappers to kill the prime minister on the operating table in order to save the lives of her children and husband.

"Hostages" beat eight other drama series at the Golden Nymph Awards, including Netflix's "House of Cards." Zurer, 45, who was named Best Actor in a Drama Series, beat Golden Globe winner Robin Wright ("House of Cards").

The win joins another international achievement for the series' creators: Even before it was first broadcast in Israel, "Hostages" was purchased for production by the American CBS network, although the ratings of the American version failed to meet expectations and it was canceled after its first season.

Meanwhile, the show's original version was purchased for broadcast in Britain and France.