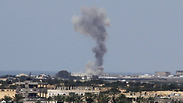 IAF strikes in Gaza (Archive)
Photo: AFP
GAZA - A seven-year-old boy has died of wounds suffered in an Israeli air strike that killed his uncle, a Palestinian militant, as they were riding on a motorcycle in the Gaza Strip, relatives and hospital officials said on Sunday.

The Israeli military had no immediate comment on the death of the boy, Ali Abdel-Latif al-Awoor, whom hospital officials said succumbed on Saturday to multiple shrapnel injuries from the June 11 strike that killed Mohammed al-Woor, 33.

Shortly after Wednesday's attack, the military said it had targeted the militant over his involvement in rocket strikes on Israel.

Relatives said Ali's father had asked the uncle to give the boy a ride on the motorcycle to Beit Lahiya, the northern Gaza town where the family lives.

Militants said Awoor belonged to a pro-al-Qaeda Salafi group.

Israel has said it seeks to avoid civilian casualties in strikes against militants it believes are behind rocket attacks from the Gaza Strip.