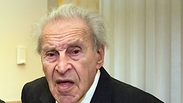 Holocaust survivor Edgar Krasa
Photo: AP
Holocaust survivor found redemption through music
Young Edgar Krasa was sent to Terezin concentration camp that succeeded, in the midst of Nazi brutality to become a cultural center: 'Music can be so much more than playing a tune, it helped me live and it kept me going through the worst part of my life'.
TEREZIN - Edgar Krasa took part in one of the ennobling acts of the Holocaust. He didn't take up arms in a ghetto insurrection, or fight in the Jewish underground. Instead, he and several hundred fellow concentration camp inmates defied the Nazis through music.

For Krasa, the road began at the Masaryk Railway Station in the Czech capital, Prague. It was Nov. 24, 1941, and the Nazi machine was crushing one of the oldest Jewish communities of Europe. Over the next four years, thousands of its artists, writers, musicians and professionals would be transported from the Prague area to the fortress-turned-concentration camp where Krasa was sent that day: Terezin.

Related stories:

The 21-year-old cook got off the train with 340 other Jews and trudged across a bleak countryside shouldering the 110 pounds (50 kilograms) of possessions each was permitted to bring. The Germans were billing Terezin, 38 miles (60 kilometers) northwest of Prague, as a "spa town" generously offered by Hitler to shelter Jews from the escalating war in Europe.

As the group passed through the gates of the fortress town, ringed by nine-foot (nearly three-meter) thick walls, any hopes they may have harbored about a pleasant sojourn vanished. "They made us feel right away as prisoners," Krasa, now a 93-year-old Bostonian, remembers.

Terezin was never an extermination camp, although some 35,000 of the 140,000 prisoners perished there. Built in the 18th century, the town served as a collection center for the cream of Jewish intelligentsia, not only from what was then Czechoslovakia but half a dozen other European countries. From there, 87,000 were shipped on to camps like Auschwitz; almost none survived. Terezin also proved a propaganda coup for the Nazis, who used it to show the world that they were treating Jews humanely.

The reality of Terezin could not be more different. Krasa remembers how conditions deteriorated rapidly as military barracks were converted to stack arrivals. A town built to accommodate 5,000, Terezin's inmate population would reach 55,000. Typhus epidemics, overwork, executions and severe malnutrition scythed through its ranks.

A week after Krasa's arrival, a young Prague musician, Rafael Schachter, turned up at Terezin -- and the two shared an attic room. "He was my hero. His vision was to make the lives of every prisoner more bearable," says Krasa. Schachter gathered inmates to sing popular Czech songs, then entire operas and finally led them in rehearsals of Giuseppe Verdi's Requiem Mass, a towering work that challenges the world's finest musicians.

They learned it by rote from a single smuggled score. The chorus rehearsed in a cold dark cellar after hours of grueling forced labor. The group of some 150 had to be replenished twice as members were deported to Auschwitz. At times they emerged from the cellar and stepped over the skeletal corpses of fellow inmates.

"Well, it kept our spirits lifted. We felt we wanted to go on. We were hungry, we were tired, we were sick. But we had something to live for," Krasa says.

The rehearsals were initially carried out in secret, but Jewish elders were able to persuade camp commanders to allow such activities so they could demonstrate to the world the Nazis' "goodwill" toward the Jews. Intellectual and artistic life exploded. The Terezin Orchestra and a jazz group called the Ghetto Swingers were formed.

Inmates staged cabarets, operas and piano recitals, complete with handbills. They gave more than 2,400 lectures on subjects ranging from physics to philosophy. Krasa, who once crooned in a barber shop quartet, sang in all 16 performances of the Requiem at Terezin.

The final one was on June 23, 1944, given before senior Nazis, including the principal architect of the genocide Adolf Eichmann, and an International Red Cross delegation. It was part of an elaborate and successful hoax to present Terezin, greatly prettified for the occasion, as a benign place of refuge.

The Requiem chorus had its own secret plan to hoodwink the Nazis.

Schachter told his singers, now down to 60, to study the Requiem's message: a heart-breaking plea for salvation but also a terrifying evocation of the day "when the damned are silenced and given to the fierce flames" -- the day when their captors would be punished. Singing the Requiem to the faces of the Nazis, he said, would be an act of defiance, and an affirmation of their own dignity.

"If the Nazis realized what the lyrics were about (we) could be deported (to death camps). But nobody left. Nobody. We sang those verses," Krasa has said. "It was the only way we were able to achieve victory."

The lights dimmed in the elegant, 19th-century Konzerthaus in Berlin, the city where the blueprint for the liquidation of Europe's Jews was finalized. Sitting in the front row, holding his wife's hand, was Krasa, gray-haired, mentally alert, always ready with a joke.

Seventy years after he first sang the Requiem at Terezin, the somber opening measures of Verdi's masterwork sound in a performance paying tribute to Schachter, his fellow musicians and the power of art over evil. Above the orchestra, among a 150-strong chorus clad in black, Krasa's 18-year-old grandson Alexander and sons Daniel and Rafael, named after his friend and mentor, were singing the bass parts, just as he once had.

Conducting was Murry Sidlin, the American creator of the Defiant Requiem Foundation which seeks to preserve the legacy of Terezin - its "artistic defiance" as he calls it -- through education and stagings of Verdi's mass across the globe. Krasa, too, promotes this legacy, speaking to students, religious groups and musicians and funding young Czech, Israeli and American composers.

After Terezin, Krasa survived Auschwitz and a labor camp, and escaped from a death march with a bullet lodged in his ribs. He left his homeland in 1950 and eventually settled outside Boston where he held executive positions in a nursing home and later opened his own restaurant, retiring in 1991.

Schachter was deported four months after his last performance. He survived Auschwitz but died on a death march at the age of 39. The liberation of Czechoslovakia was only one month away.

"You see, music can be so much more than playing a tune," Krasa wrote in a booklet about Terezin. "In my case, it helped me live and it kept me going through the worst part of my life. And for that, I will never forget Rafael Schachter."