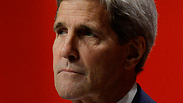 US Secretary of State John Kerry published a statement Sunday saying that the kidnapping of 3 Israeli teens in the West Bank was likely undertaken by Hamas. "We are still seeking details on the parties responsible for this despicable terrorist act, although many indications point to Hamas' involvement."

Kerry stressed that the US designates Hamas as a terrorist organization. "As we gather this information, we reiterate our position that Hamas is a terrorist organization known for its attacks on innocent civilians and which has used kidnapping in the past."

Kerry condemned the kidnapping and called for the immediate release of the missing teens. "Our thoughts and prayers are with their families. We hope for their quick and safe return home."

Related Stories

He added: "We continue to offer our full support for Israel in its search for the missing teens, and we have encouraged full cooperation between the Israeli and Palestinian security services."

Kerry held a meeting with Justice Minister Tzipi Livni on Friday in London where Livni requested that the American's take whatever action possible with the Palestinians to bring the abducted teens home.

Kerry also discussed the situation by phone with Prime Minister Benjamin Netanyahu and Palestinian President Mahmoud Abbas Friday evening.

"Abu Mazen (Abbas) is responsible for the safety of the teens," Netanyahu said to Kerry. "This is the result of allowing a terrorist organization to join the government."

Palestinian authorities rejected Netanyahu's comments as inflammatory and untrue. "Netanyahu would blame us for an earthquake," said a Palestinian security official.