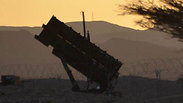 Iron Dome
Photo: Meir Ochion
Palestinian terrorists launched four rockets towards the southern Israeli city of Ashkelon on Sunday night. The Iron Dome missile defense system intercepted two of the rockets; the other two hit open areas.
The Israel Air Force retaliated to the rocket fire by striking five terror targets in the northern and southern Gaza Strip.
At around 10:10 pm, the Code Red siren was sounded in the Ashkelon and Hof Ashkelon Regional Council area. Local residents reported hearing a series of explosions and seeing fragments of the rockets fall across the city.
No one was wounded and no material damage was reported. Ynet received many messages from Ashkelon-area readers who reported hearing the explosions.
Related Stories
Shortly after 3 am, the IDF Spokesman said IAF fighter jets attacked a center of terror activity, three arms production and storage sites in northern Haza, and another center of terror activity in the south of the Strip.
On Saturday one rocket made landfall in a town within the Hof Ashkelon Regional Council, only a few dozen meters away from residential structures. The IDF confirmed a rocket hit the yard of a home, but no one was injured and no damage caused.
The rocket was preceded by a 'Code Red' siren heard in several townships within the regional council. Another rocket was launched Friday overnight towards the western Negev desert. The remains of a rocket were discovered by the security fence after several hours.
Yoav Zitun contributed to this report.