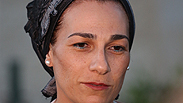 Mother of Gil-Ad Shaer
Photo: Motti Kimchi
"We trust that Eyal, Gil-Ad and Naftali... boys on their way home from school, they were just on their way home... will be with us here and we'll hug them soon," said the mother of Naftali Frenkel Sunday in emotional comments regarding her son, an American citizen among the three boys who were apparently abducted by Palestinian extremists in the West Bank Thursday night.

"I came out here to say thank you," said Frenkel's mother alongside her husband just outside their home in Nof Ayalon just south of Modi'in. "As you see we are surrounded by wonderful, warm family and community and they're taking care of us and protecting us."

Frenkel's mother smiled in emotional optimism through her statements. "We know everybody is doing everything humanly possible to bring Naftali, Eyal and Gil-Ad home safely as soon as possible," she said. "We feel waves and waves of prayers and support and positive energy in this direction."

Related Stories

The mother of Gil-Ad Shaer, another of the abducted teenagers, appeared slightly more subdued, but still hopeful in similar statements made Sunday in response to the tragic incident.

"We are going through a tough period in these days and I want to give a big hug to the Israeli nation - a hug of gratitude; a hug of thanks; a hug of prayer," she said. "We feel your embrace and it gives us the strength in these difficult days and we are passing on all of your positive energy to our Gil-Ad."

"Gil-Ad is strong and I'm sure that Naftali and Eyal are as well. I want to ask the Israeli nation to continue praying... continue giving strength to our children," she said.

Both mothers expressly thanked officials and security forces for the continued efforts in searching for the boys. "We know that from the prime minister to the last soldier, they are doing everything possible," said Shaer's mother. "I want to give strength to everyone and say thank you very much."