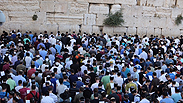 Prayers at the Kotel
Photo: Gil Yochanon
"We are proving to our enemies that the Israeli nation is alive and will never break," said Israel's Ashkenazi Chief Rabbi David Lau Sunday to a crowd of 25,000 people who arrived at the Western Wall in Jerusalem to pray for the safe release of three Israeli teens who were apparently kidnapped Thursday night by Palestinian radicals.

"The entire nation has come here, to the Kotel, as one being, one heart, united in prayer for the safety of the kidnapped - for their quick return to the bosom of their families and their people," said Lau.

"In the last three days we've felt that these are our children, our family," explained Lau. "We don't have many factors in common in our divided society, but then (we experience) a story that is so terrible and the entire nation becomes one heart. Sometimes we are forced to wait for this kind of trauma in order to feel united. Let's not wait as in the case of Gilad (Shalit)."

Related Stories

The Rabbi's comments at the Kotel came as security forces scoured the West Bank focusing on Hebron in search of the three Yeshiva students. Reports surfaced Sunday of the IDF arresting multiple members of Hamas.

The event in Jerusalem to show solidarity with the missing teens was mirrored in Tel Aviv's Rabin Square where some 250 people came out in prayer for their safe return.

"I came to show solidarity and to pray for the abducted teens," said Avi, one of the members of the crowd in Tel Aviv. "There's an atmosphere of unity in the emotion. My wife is religious and I'm not, but we've come and we'll pray from all our hearts. Solidarity is what makes us a nation."