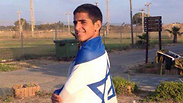 A video has emerged of an Arab teenager from Nazareth condemning the Palestinian Authority as a terrorist organization and calling on the kidnappers of three Israeli Jewish teens to free them immediately. What makes the video even more unusual is that it was made by Mohammad Zoabi, the 16-year-old relative of controversial Arab MK Hanin Zoabi.
The video, filmed in English, Hebrew and Arabic, has drawn thousands of angry responses, including one from Mohammad's parliamentarian relative. In the video, Moahmmad warns that any Israeli could share the fate of 19-year-old Eyal Yifrach and 16-year-olds Naftali Frenkel and Gil-Ad Shaer, who vanished in the West Bank on Thursday night.
Related stories:
"To Bibi (Benjamin Netanyahu), our prime minister and his government - wake up and stop cooperating with terrorists," Mohammed says in the video. "The Palestinian Authority is the biggest terrorist. Two days ago, these Israeli kids were kidnapped. Tomorrow, it could be me, you or any other Israeli. Our enemies don't separate between Arabs and Jews living in Israel. For them, we are all one, for them we are all Israelis. And you know what? I am proud about that - I am an Israeli and I will remain an Israeli. And again, you better bring them back. Israel is here to exist as Jewish and as a democratic country. Am Yisrael Chai (The nation of Israel lives)."
The video sparked thousands of angry responses from the Arab sector, including accusations that Mohammad was "mentally ill" and "the boy doesn't know what he is talking about". Some comments even threatened violence: "I feel like strangling you," write one person, while another "I wish that next time it would be you".
MK Zoabi also hit back at the video, calling her young relative stupid and delusional.
"I am happy to see that the Israeli hasbara (propaganda) is in such a dire state it needs a stupid boy with a twisted identity, who feels a continuous need to apologize to his strong masters," she told Ynet. "The Israeli desire to highlight this delusional case shows the state's need for legitimacy, even if it comes from a questionable direction."