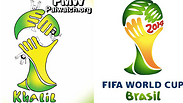 The cartoon (left) and the World Cup logo, side by side.
Image: PalWatch.org
The official newspaper of the Palestinian Authority has apparently celebrated the kidnapping of three Israeli teens with a cartoon closely resembling the logo of the current World Cup competition.

The cartoon, which appeared in Al-Hayat Al-Jadida on Sunday, shows three hands forming a trophy-like shape, just as three hands form the trophy in the World Cup logo. But the cartoon, which uses the distinctive green and yellow color scheme of the World Cup, also shows three boys dangling from the grip of the hands. Underneath the trophy, the word "Khalil" (the Arabic name for Hebron) appears instead of "Brasil" of the original – a reference to the location of the kidnapping.

Related stories:

The three teens – Eyal Yifrach, 19, and 16-year-olds Naftali Frenkel and Gil-Ad Shaer – disappeared in the West Bank on Thursday night, in the area of Gush Etzion, some 10 kilometers from Hebron. Israel believes that the three were kidnapped by Hamas operatives. It emerged Saturday that one of the teens made a phone call to the police immediately after the abduction, saying that they had been kidnapped.

The PA, which earlier this month swore in a new Hamas-backed government as part of a reconciliation agreement between long-term warring factions Fatah and Hamas, has vowed to help Israel find the three youths. On Monday, Palestinian President Mahmoud Abbas called Netanyahu and also condemned the abduction.

"I expect you to assist in returning the abducted youths and in apprehending the kidnappers," Netanyahu told Abbas in their first direct contact in months.