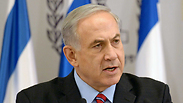 Prime Minister Benjamin Netanyahu
Photo: GPO, Avi Ohayun
"Anyone trying to harm Israeli civilians will be harmed in return," said Prime Minister Benjamin Netanyahu as he appeared before Israeli media Monday alongside Defense Minister Moshe Ya'alon and Chief of Staff Benny Gantz to comment on the progress of the search for three Israeli teens that were kidnapped Thursday night.

"At the moment we are focusing on one mission: returning the teens who were abducted and we are acting against Hamas," said Netanyahu. "We've arrested more than 100 Hamas operatives. We are taking additional actions (that can't be elaborated on)."

The comments from all three leaders made it clear that current operations in the West Bank are meant to impose a high price on Hamas for any actions taken against Israel. "We've begun an effort in which Hamas is paying a heavy price," said Ya'alon.

Related Stories

The three also stressed that investigations would take an extended period of time to produce results. "We are in the middle of a complex operation and we need to be prepared for the possibility that it will take time to produce results."

"Our efforts will lead to (the capture) of the kidnappers and the (rescue) of the kidnapped, I have no doubt about that," said Ya'alon. "This demands stamina and patience."

While asking for patience in their efforts, the leaders also voiced determination in taking any and all steps to accomplish the goal of bringing home the abducted teens safely.

"While the Israeli nation is embracing and praying with the families, the IDF along with the Shin Bet and the police are acting in order to reach a solution (to the incident) no matter what it takes," said Gantz.

Netanyahu also addressed firing of rockets from Gaza which has increased since Thursday's kidnapping. "In the last few days we've seen attempts to open an additional front from the Gaza Strip. We've responded to this fire with great force and if required we will respond with even greater force."

The speeches to the media came as security forces tightened their grip on Hebron Monday with roadblocks and arrests targeting Hamas members.

The three teens were apparently kidnapped Thursday night and no group or organization has made any accepted claims of responsibility for the abduction. The working conclusion is that Hamas operatives kidnapped the teens though it is unclear if the organization's leadership sanctioned the attack.