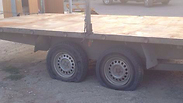 Even as the IDF increased its search operations for the three teens abducted in the West Bank, the tires of a military vehicle were punctured at the Yitzhar settlement Monday, the latest in a recent string of apparent price tag attacks.

Police launched an investigation into the incident, the third in the last two months.

At the same time, 100 settlers demonstrated at Gush Etzion Junction calling for the immediate release of the kidnapped boys. Clashes erupted during the protest; three people were taken in for allegedly disrupting the peace.

Related Stories

At around 6:30 pm, an officer of the Samaria regional brigade arrived in Yitzhar with portable toilets used by Border Police forces staying in the settlement.

The tires of the vehicle – a carriage that transported the portable toilets – were punctured by unknown assailants who fled the scene. Sources familiar with the officer applauded his dedication to the IDF.

"He hasn't slept in days because of the logistical worries he had for the reinforcement forces that arrived to the regional brigade in Samara. He only wanted to take care of the soldiers' needs. How unthankful!"

"The IDF has a stern stance on acts of this kind against commanders and soldiers working around the clock in cooperation with security forces in order to protect the people of this country," said the IDF Spokesperson's Unit.

Yitzhar spokesperson Ezri Tuvi criticized the conduct of the IDF Spokesperson's Unit. "This is a civilian carriage whose tires were punctured – most likely – by people who are not Yitzhar residents in protest of the yeshiva's 'occupation.' As a rule, these stupid acts are not accepted by Yitzhar residents, especially at a time when the security forces are working relentlessly to rescue the abducted boys."

In April, unknown assailants slashed the tires of Samaria Brigade Commander Colonel Yoav Yarom's vehicle during a routine visit to the settlement.

The tires of the same senior commander's jeep were slashed at the same spot three months ago. The incident took place while Yarom was touring the area with his successor, Colonerl Shay Kalper.

A week before that incident, under similar circumstances and in the same location, the windows of a different senior officer's vehicle were smashed during a routine visit to Yitzhar.