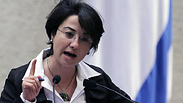 Hanin Zoabi: Branded a 'traitor'
Photo: Alex Kolmonski
Arab MK Hanin Zoabi caused a storm o the floor of the Knesset on Tuesday after she told Tel Aviv Radio that those behind the kidnapping of Israeli teens Eyal Yifrach, Gil-Ad Shaer and Naftali Frenkel "are not terrorists." The three have been missing since Thursday night, and a massive search operation is underway in the West Bank in a bid to find them.

Zoabi, a member of the Arab party Balad, is considered a polemic figure in Israeli politics, commonly inspiring controversy for what many describe as anti-Israeli activities. In the past she has faced legal troubles for her statements and actions, such as her participation in the 2010 Gaza flotilla led to an investigation regarding her possible abuse of the immunity enjoyed by Knesset members.

Related stories:

Zoabi was speaking Tuesday morning to Tel Aviv 102 FM's Sharon Gal, when she was asked whether she thinks those behind the kidnapping are terrorists.

She replied: "They are not terrorists. I don't agree with you, they are people who see no other way to change their reality, so they are forced to use these means…at least until Israel wises up, and until Israeli society opens up and feels the pain of the other."

Zoabi also said she was not surprised by the abduction, saying "People living under occupation live abnormal lives."

She made the comments hours after the police arrested three members of her extended family for allegedly threatening her cousin, Mohammad for his publicly shared video expressing support and solidarity for the kidnapped youths, breaking with the family's hard-line position regarding Israel.
Knesset goes wild
Foreign Minister Avigdor Lieberman slammed Zoabi for the comments, saying "not only are the kidnappers terrorists, but Hanin Zoabi is also a terrorists. The fate of kidnappers should be the same as that of the one inciting to kidnap.

Coalition Chairman Yariv Levin (Likud) has asked Attorney General Yehuda Weinstein to investigate Zoabi for her comment, calling her statements akin to "incitement to terror". According to Levin, "steps must be taken immediately to stop Zoabi's hateful incitement campaign... and the support for terror she leads."

Zoabi's comments also caused a storm in the Knesset plenum. MK Aliza Lavie of Yesh Atid lashed out at her colleague, demanding, "when will our kids come home? Where is your humanity?" Zoabi responded: "You are a racist if you are talking that way."

But Lavie continued with her criticism, saying, "when you need help, you know very well to come to me, so come and help me bring back these boys safe and sound," to which Zoabi rhetorically responded: "Help you?"

MK Shuli Mualem of rightwing Bayit Yehudi intervened, saying: "MK Zoabi, there is no room for such talk. No place whatsoever," to which Zoabi responded by saying there was no room for censoring MKs.

Likud MK Miri Regev, who traded strong words with Zoabi on Monday over the kidnapping, said that Zoabi should "be expelled to Gaza and her immunity stripped from her. She is a traitor."

MK Elazar Stern, from Tzipi Livni's centrist Hatnua party, branded the comments "despicable", saying he "doubts they represent those of Israel's Arab population."

Bayit Yehudi said in a statement that "Zoabi is the terrorists' representative in the Knesset," and noted that "in her provocation she harms the public she is supposed to represent.

"Zoabi's presence in the Knesset proves the State of Israel is the most tolerant to minorities and supporters of terror, maybe too much so. Like it is unfathomable to imagine an al-Qaeda representative in Congress calling for the murder of Americans, the time has come to for Israel to take action regarding Zoabi."