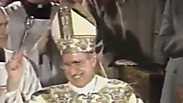 Cardinal John Joseph O'Connor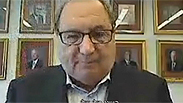 Abraham Foxman. 'He acted like a brother, and he was a brother'
Photo: Ori Davidovich
The Catholic Church's top official in New York, Cardinal John Joseph O'Connor, was in fact Jewish, it has now been revealed – 14 years after his death.

According to the New York Times and other media outlets in the United States, the mother of the late cardinal, who died in 2000 at the age of 80 after serving as the archbishop of New York for 16 years, was born Jewish. Cardinal O'Connor apparently never knew that.

Interfaith Dialogue

Senior Catholic Church officials, rabbis and religious scientists hold fascinating interfaith meeting to discuss religious clerics' place in Western world.

The discovery was made by Mary O'Connor Ward-Donegan, the cardinal's 87-year-old sister, who had been searching for information about her forebears. "The basic fact is, my mother was Jewish," she said. Observing the Jewish matrilineal tradition, "that means my two brothers were Jewish, my sister was Jewish and I am Jewish. Of that I am very proud."

The late archbishop was known as a staunch friend and defender of the Jewish people, and had even visited Israel. According to the NY Times, he spoke often about what he had seen at the Dachau concentration camp as a Navy chaplain and used his platform as head of the Archdiocese of New York to support Soviet Jewry. He also played a role in the Vatican's recognition of the State of Israel.
Grandson is a cardinal, grandfather was a rabbi
Abraham Foxman, national director of the Anti-Defamation League (ADL), defined O'Connor in an interview with the CBS network as a real friend of the Jewish people, adding that "he acted like a brother, and he was a brother."

Another "brother" was New York Mayor Edward I. Koch, a Bronx-born Jew who worked closely with the cardinal and proclaimed that he loved him "like a brother."

O'Conner's sister said she only began digging into her roots after her daughter, Eileen Ward Christian, gave her a paid subscription to Ancestry.com, an online fount of genealogical records, for Mother's Day two years ago ahead of a trip they were planning to take to Ireland.

"This is how it all started," Ward-Donegan said. "I started building trees on my father's side of the family, and for my mother's side of the family, it was really difficult to find anything."

Ward-Donegan said her mother, Dorothy, a devout Catholic who died in 1971, told her children little about her upbringing. The first hint that she had been born in a Jewish home came when Ward-Donegan's daughter spotted some headstones online, including some inscribed in Hebrew.

According to the NY Times, the headstones her daughter happened upon were for Gustave Gumpel and his wife Tina Ruben, the couple Ward-Donegan now knows as her Prussian-born maternal grandparents. They were in a Jewish cemetery in Fairfield, Connecticut , owned by the Bridgeport synagogue B'nai Israel.

A phrase from the Book of Job was etched in Hebrew on the tombstone of Rabbi Gumpel, describing him as a man who was "plain and straight" and of good character. The graves of his four children were discovered farther back.

Rabbi James Prosnit, B'nai Israel's spiritual leader since 1990, told the NY Times that the congregation will accept a member's non-Jewish spouse for burial now, but that the synagogue's gatekeepers in the years the Gumpel couple died would not knowingly have buried anyone there who was not Jewish.

A further search of the congregation's archives and genealogical research by Renee Stern Steinig, an expert in Jewish genealogy, revealed that the cardinal's grandfather was not only Jewish but even a rabbi and a butcher.
Dorothy was actually Deborah
The genealogical research revealed that Dorothy's mother Tina, Rabbi Gumpel's second wife, died sometime around her 30th birthday when Dorothy was a toddler, leaving the rabbi to raise their five children and his four children from a previous marriage.

Dorothy, their youngest child, was subsequently cared for by two half sisters. She bolted the moment she came of age and, according to her daughter, "never went back."

She was identified as Deborah on an 1887 birth record, Dora in the 1900 census, and Dorothy Gomple when she converted to Catholicism and was baptized by Father William J. Fitzgerald in Bridgeport in 1908. A year later she built a new life in Philadelphia, where she married Thomas O'Connor, a decorative painter.

According to both Ward-Donegan and Joseph Zwilling, a spokesman for the New York Archdiocese, the cardinal occasionally referred to his mother as a newcomer to Catholicism. "It wasn't a secret," Zwilling said, but the assumption was that she had converted from Lutheranism.
Not the first Jewish cardinal
According to the NY Times, Rabbi Gumpel's life was marked by setbacks and challenge. Archival records suggest that the community might have been less than appreciative of his services. His name appears nowhere in the programs or extensive news coverage about the opening of the synagogue's first building in 1911, or about an 1889 wedding that fused two of the congregation's founding families.
"Maybe he was too Orthodox for them," said Robert K. Lesser, 90, a Bridgeport lawyer and grandson of the marrying couple. "He was a butcher, and a rabbi in name only. They must not have respected him much. That was a low-class occupation."
Rabbi Prosnit called the Gumpel saga "an American version of the 'Fiddler on the Roof' story, in which a Jewish daughter pursued a new life with a man of a different faith.
Ward-Donegan acknowledged that she might never know why her mother left the fold or who might have influenced her. According to Prosnit, America in the Gumpels' day was a land of assimilation, and "plenty of Jews were embracing the majority culture" when they arrived.
This isn't the first time that a senior representative of the Catholic Church turns out to be Jewish: Cardinal Jean-Marie Lustiger, who served as the archbishop of Paris for 24 years and died in 2007, was born Aaron Lustiger to Jewish immigrants from Poland and converted to Christianity as a young boy.
Lustiger acknowledged his Jewish roots his entire life. During his funeral, his nephew cited the Kaddish prayer at his late uncle's request, and Psalms were read in Hebrew, Latin and French. A jar containing earth from Jerusalem's Mount of Olives was placed on his coffin, as a gesture of the Israeli ambassador. Lustiger's story was told in a film called "The Jewish Cardinal."