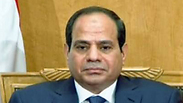 President Abdel-Fattah al-Sisi
Photo: AFP
Egypt's newly elected President Abdel-Fattah al-Sisi chaired the first meeting of his new Cabinet on Tuesday, shortly after its members were sworn in at the presidential palace in Cairo.

After an hours-long meeting that started early in the morning, Prime Minister Ibrahim Mahlab said the government plans to work around the clock to combat corruption, ensure the return of security and build what he described as a "strong state."

"Failure, reluctance, incompetence and shaking hands are no option," Mahlab told journalists at a news conference. He said al-Sisi asked ministers to be in their offices by 7 a.m. each work day.

There are 13 new members of the Cabinet, including Foreign Minister Sameh Shukri, who was Egypt's ambassador to Washington. He replaced veteran diplomat Nabil Fahmy.

The government has 34 ministers - including four women and several technocrats - and is led by Mahlab, who also served as the interim premier for the past five months.

Mahlab was the second person to fill the post of prime minister since al-Sisi ousted Egypt's first freely elected president, Mohammed Morsi, last July, following massive protests against the Islamist leader and his Muslim Brotherhood group.

Al-Sisi, the country's former army chief and defense minister, was sworn in as president earlier this month following his landslide election victory. He has pledged to restore security, improve the country's battered economy and build a more stable future after three turbulent years following the ouster of longtime autocrat Hosni Mubarak.

Al-Sisi also has said there will be no tolerance for those who took up arms against the government and Egyptians - a thinly veiled reference to Morsi's supporters.

Since Morsi's removal, his supporters have held near-daily demonstrations, which have been met by a fierce crackdown by security forces that has killed hundreds and arrested thousands. Suicide bombings and Islamic militant attacks prompted the government to declare the Brotherhood a terrorist organization. The group denies any link to violence and an al-Qaeda-inspired group has claimed responsibility for most of the attacks.

Morsi and many of the top Brotherhood leaders have been jailed and are facing a series of trials, mostly in connection to violence associated with the protests.

For the first time, the Cabinet doesn't include the Information Ministry, the government body that for decades has overseen state media. The move is in line with the newly adopted constitution, which calls for an "independent institution" to regulate media and the press.

After Mubarak's 2011 ouster, activists and free media advocates called for the ministry and state media to be abolished. The transitional military council that took power after Mubarak initially agreed to the move, but then reinstated the ministry. Egypt's new parliament - which is to be elected within months - has a mandate to pass legislation that will regulate the work of the new media body.

Also missing is the Ministry of Administrative Development. A newly created ministry is supposed to tackle the problems of Cairo's sprawling slums and major Egyptian cities.