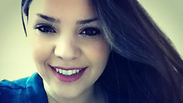 Almost a month and a half after Shelly Dadon was found dead in an parking lot in the northern town of Migdal HaEmak, the police has released six Israeli-Arabs arrested in wake of the incident.
Many believe the murder to be nationalistically motivated, but there has yet to be any confirmation of the claim.
The joint police-Shin Bet investigation is under gag order so no details can be divulged, but Dadon's parents expressed optimism at developments in the case. "I am optimistic, and hope these are real developments which will lead to the capture of her murderers," her father Yaakov said.
Related stories:
"Our worst fear is that the murder will go unsolved and the murderers will go free. Until this (Tuesday) morning we had almost given up, but when we heard there had been developments we knew something was moving with the investigation," he said.
After the murder of Shelly Dadon from Afula, six Israeli-Arabs, some were minors, were arrested for questioning, the Supreme Court cleared for publication Tuesday. The six suspects were interrogated and denied legal representation during their week-long arrest and interrogation.
The suspects denied any connection to the murder and the investigation revealed that the six were not involved in the murder and were released.
But at the same time, police was making headwaay in another direction.
"The situation at home is very difficult, but we are trying to return to our everyday lives, but we are struggling. We are trying to find our way in the dark," Yaakov Dadon told Ynet.
The six were arrested on suspicion for illegal activity, but denied any involvement in Dadon's murder and were subsequently released.
In one of their remand extension hearings, the brother of one of the suspects said that his brother "has nothing to do with the murder, on the day of the murder he was home. We have security cameras to prove it."
Shelly Dadon, 19, left her house in Afula to Migdal Haemek on May 2 for a job interview. Her body was found a few hours later at a parking lot in the Ramat Gavriel industrial area. A Migdal Haemek police patrol noticed a body on the asphalt of the empty lot. They found stabbing wounds on the body which led them to suspect foul play and they immediately called in large police forces to the scene.
Dozens of policemen scoured the area and examined, among others, the possibility that Dadon was murdered for nationalistic motives. Five people were arrested shortly after the event, but they were released. Since then the case has hit a dead end.
Hassan Shaalan contributed to this report.