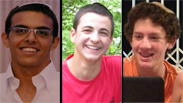 Eyal Yifrach, Gil-Ad Shaer, Naftali Frenkel
Photo: Shaul Golan
As the search for missing teens Eyal Yifrach, Gil-Ad Shaer and Naftali Frenkel reaches its one-week mark, there has been no sign of life from the boys, nor has any organization taken responsibility or demanded a ransom.
Meanwhile, a total of 280 Palestinians have been arrested as part of Operation Brother's Keeper. Ynet revisits the key events since the three disappeared:
Thursday - June 19
6:30 pm: Hamas spokesperson Sami Abu Zuhri says "Hamas will rain hell on Israel" should West Bank crackdown on operatives continue.
6:00 pm: Prime Minister Netanyahu holds press conference with Defense Minister Moshe Ya'alon and IDF Cheif of Staff Gantz, says search to continue, adds again that Israel views Hamas as behind the abduction.
Prime Minister speaks at press conference (צילום: עפר מאיר)
4:00 pm: Palestinian President Mahmoud Abbas fights back against military operation in the West Bank, condemns what he terms as the "collective punishment of Palestinian civilians". PLO official Jabril Rajoub says Israel understands only language of kidnapping, in possible attempt to quell growing anger of Palestinians at Abbas' cooperation with Israel following his decrial of kidnapping on Wednesday, .
2:00 pm: President Peres meets with families of abducted teens, promises to speak with US President Obama about kidnapping.
11:30 am: Kidnapped boys' families hold prayer at the Western Wall, mother of Naftali Frenkel tells well-wishers to "stay strong, even if boys do not return."
9:55 am: US Jews rally in support of kidnapped teens.
9:34 am: Tensions between IDF soldiers and Palestinian civilians on rise, rocks and homemade explosives thrown at IDF forces in Jenin.
Overnight: 30 Palestinians arrested; 100 buildings searched.
Wednesday - June 18th
7:53 pm: Kidnapped boys' families hear recording of sons' 911 call. The phone call has been at the center of a heated dispute after it was discovered that the police received the call hours before the IDF was informed, thinking it was a prank call.

6:06 pm: Growing support among Israeli-Arab teens for the three kidnapped Israel seems to be on the rise, despite harsh comments made by Arab MKs and Palestinians regarding the incident.

11:45 am: Palestinian President Mahmoud Abbas lashes out against the culprits behind the kidnapping of Eyal Yifrach, Gil-Ad Shaer and Naftali Frenkel, using harsh words: "Those who carried out the kidnapping want to destroy us,"


7:50 am: The IDF raid overnight Hamas-affiliated Al-Aqsa radio station offices, in Ramallah and Hebron. Military forces also shut down checkpoints, including in the area of Beit Hagai.

7:46 am: The IDF arrest 64 Palestinians overnight, including 51 who were released in the Gilad Shalit prisoner exchange deal.
Tuesday - June 17th
9:09 pm: Netanyahu urges international community to condemn Hamas and calls on Palestinian Authority President Mahmoud Abbas to dismantle his unity government.

3:37 pm: Palestinians launch 'The Three Shalits' campaign that celebrates kidnapping – many of those photographed are children.

2:24 pm: Arab MK Hanin Zoabi causes a storm on the floor of the Knesset after saying that those behind the kidnapping of Israeli teens "are not terrorists."

3:30 pm: Families of the three Israeli teenagers meet for the first time, send strength to everyone involved in search efforts.

Families of kidnapped teens: "We love you, and we miss you" (צילום: עידו בקר)

11:37 am: Prime Minister Benjamin Netanyahu speaks with the families of the three Israeli teenagers abducted in the West Bank, and promises them Israel was doing everything to bring their sons back.

11:00 am: Singer Tony Orlando arrives at the Frenkel family home in the settlement of Nof Ayalon during his trip to Israel, expresses his support and urges fellow Americans to do the same.

Tony Orlando speaking at press conference at Nof Ayalon (Video: Ido Beker) (צילום: עידו בקר)

1:30 am: IAF aircrafts strike a terror activity site, two weapon storage facilities and an arms manufacturing facility in the Gaza Strip, in response to rocket fire from Gaza late Monday in the direction of Ashkelon.
Monday - June 16th
11:00 pm: Amid search for three teens, IDF foils infiltration attempt into Kochav Yaakov settlement.
6:40 pm: Prime Minister Benjamin Netanyahu, Defense Minister Moshe Ya'alon and Chief of Staff Benny Gantz stress that operation to rescue abducted teens will take time, ask for patience.
6:35 pm: Dozens of people protest at Gush Etzion intersection, and clash with IDF soldiers.
6:30 pm: Vandals slash tires of a military vehicle at the Yitzhar settlement as IDF forces search for missing teens.
11:00 am: For the second time, rumors regarding the fate of the three abducted teens spread on social network application WhatsApp.
6:40 am: IDF decides to intensify the activity against Hamas in the West Bank, with troops conducting extensive searches of the villages around Hebron and the neighborhoods inside the city itself, checking cisterns, wells, caves and basements.
2:30 am: IDF attacks terror targets in Gaza in response to rocket fire.
Overnight: IDF forces arrest dozens of Hamas members in the West Bank, among them Palestinian parliament speaker Aziz Duwaik.
Sunday - June 15th
11:10 pm: Two Hamas members arrested during the operation in Hebron.
10:38 pm: Palestinians report that IDF has surrounded a house in Hebron, explosions sounded in the region.
Security forces surround Hebron house in search of kidnapped teens (צילום: רויטרס)
10:25: In wake of the abduction and IDF's activity in Hebron, the south is heated as well; Iron Dome intercepts two Grad rockets fired from the Gaza strip at the city of Ashkelon. A structure is slightly damaged from rocket debris.
7:30 pm: Dozens participate in a prayer at the Western Wall for the safety of the three kidnapped boys. A prayer also takes place at Rabin Square in Tel Aviv where former chief rabbi Israel Meir Lau said "We mustn't wait the way we did with the kidnapping of Gilad Shalit in 2011.
5:40 pm: Police Commissioner Yohanan Danino lands in Israel from the United States 67 hours after abduction incident begins.
4:26 pm: Ynet reveals: During the operation, President Abbas' wife hospitalized at Assuta, an Israeli private hospital in Tel Aviv.
1:45 pm: IDF preparing for siege of Hebron – block main entrances with concrete blocks.
12:40 pm: Naftali Frenkel's mother turns to her son: "Know that Israel will upend worlds to bring you home,"
12:00 pm: IDF starts a limited recruitment of reserve soldiers to deploy to Hebron area.
11:30 am: IDF reinforce troops: Hundreds more fighters sent to Hebron.
IDF troops search homes in Hebron
10:50 am: Netanyahu declares: Hamas terrorists performed the abduction.
PM issues statement on the three kidnapped teenagers (צילום: רויטרס)
Overnight: IDF arrest 80 Palestinians most of them Hamas members, among them senior Hamas activist Hassan Yousef, members of the Palestinian Legislative Council and former ministers.
Saturday - June 14th
11:30 pm: Thousands participate in a prayer at the Western Wall for the safety of the abducted boys.
11:00 pm: Police error discovered: Police received call from boys at 10:25 but failed to act until 3 am.
8:50 pm: Prime Minister Netanyahu makes first public comment on kidnapping: "We are doing everything to bring to our boys home. They were kidnapped by terrorists' organization."
3:00 pm: Censor clears for publication names of kidnapped boys; they're identified as Eyal Yifrach, Gil-Ad Shaer and Naftali Frenkel.
1:50 pm: Defense Minister Ya'alon says the working hypothesis is that the boys are alive, but admits kidnapping "slipped under our radar."
12:40 pm: 2,000 IDF forces are called to Hebron district.
11:05 am: IDF source admits: "Headway is being made in investigation, but it will not end in the upcoming hours."
9:50 am: Search for boys continues: IDF forces enter village of Halhul, near Hebron.
Overnight: IDF arrest 16 Palestinians in Hebron, mostly Hamas operatives.
Friday - June 13th
9:00 pm: US Secretary of State John Kerry speaks with Netanyahu and Palestinian President Abbas. One of the kidnapped youths holds US citizenship.
6:45 pm: Despite the fact Hamas did not claim responsibility for the kidnapping, its spokesperson said that "the occupation will not enjoy security in the West Bank because of its crimes against prisoners."
6:15 pm: Defense establishment begins working to make sure boys are not transferred to Gaza Strip or Jordan.
5:20 pm: Pirme Minister Netanyahu holds special security assessment meeting in Tel Aviv with Defense Minister Moshe Ya'alon, IDF Chief of Staff and heads of security branches.
5:00 pm: Rumors are dispelled as IDF makes official statement that confirm what was already known – there are heavy suspicions that three boys have been kidnapped.
2:00 pm: Though under a strict gag order, security forces now know a kidnapping has taken place. Social media is flooded with messages claiming a successfully rescue operation took place, and that two of the boys have been freed, and five terrorists have been killed.
12:30 pm: IDF forces find the burnt remains of car assumed to be the kidnappers' vehicle.
3:00 am: One of the boys' fathers reports to the police that his son has not yet returned home. Only then is the information transferred to the IDF and Shin Bet.
Thursday, June 12th
10:25 pm: One of the three boys calls the police and whispers "we've been kidnapped"; the police ignore the report, possibly shrugging it off as a prank.
10:15 pm: The three teens hitch a ride from the hitchhiking area in the western exit of the Alon Shvut settlement.
10:00 pm: Naftali Frenkel and Gil-Ad Shaer leave the Makor Haim yeshiva for the weekend break.
9: 40 pm: Eyal Yifrach from Elad calls a friend and tells him he is looking for a ride in the Gush Etzion area.
Yoav Zitun, Elior Levy, Attila Somfalvi, Eli Senyor and Moran Azulay contributed to this report