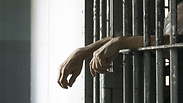 Illustration
Photo: Shutterstock
Jerusalem is considering measures to impose stricter conditions on the 1,000 Hamas members held in Israeli prisons, as part of its large-scale operation to pressure the terrorist organization since the kidnapping of three Israeli teens in the West bank.

Internal Security Minister Yitzhak Aharonovich is expected to issue new directives in the coming days; however any change in the incarceration conditions of detainees must not only adhere to Israeli law but also to the international treaties signed by Jerusalem.

Related stories:

The first step will likely be a tougher visitation policy. Because of the kidnapping, all visits to security detainees in prisons throughout have been cancelled since Sunday. Up until then, Israel had allowed monthly visits by family members. The new directives may limit the visits to the minimum number required by international treaties.

In the five years that Gilad Shalit was held captive by Hamas, Israel barred Gaza residents from visiting their imprisoned relatives. After he was freed in a 2011 prisoner swap, family visits resumed. In coordination with the Red Cross, relatives are ferried on busses from Gaza to the prisons and back.

As part of the campaign to pressure Hamas, Israel is also considering limiting the Hamas detainees purchases of food at the prison cantina – purchases often made using funds transferred by the Palestinian Authority.

The prisoners may also lose access to electrical appliances like fans, hot plates, televisions, and radios. In the past, Israel Prison Service also halted educational and academic programs for security detainees.

Due to Israel's obligations under international treaties, the Israel Prison Service will not be able to shorten the time allotted prisoners to spend outside their cells – one hour a day.

The office of the internal security minister refused to comment on the matter.

Elior Levy contributed to this report.