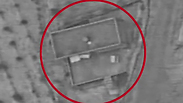 Image obtained by Skylark drone during searches for missing teens
Photo: IDF Spokesperson's Unit
Fighters of the Sky Rider unit who make use of the smallest drones in the IDF's arsenal have been playing a significant role in the military's ongoing operation to retrieve the three kidnapped teens that have been missing since Thursday night– overnight Tuesday, the unit took part in successful efforts to arrest 64 Palestinians, including 51 Hamas members who were released in the Gilad Shalit prisoner exchange deal.

With assistance from Skylark mini-UAVs (Unmanned Aerial Vehicles), IDF's ground forces were able to apprehend several terrorists who attempted to flee during the arrests.

Related stories:

The military troops managed to seize the terrorists after a chase, with the help of guidance from a 7-kilogram UAV system. The Sky Rider is expected to continue to participate in Operation Brother's Keeper to locate the Israeli teens.

Sky Rider (Video: IDF) (צילום: דובר צה"ל)

The newest version of the Sky Rider has become operative only in recent weeks and includes measures that enable missions to be carried out even in harsh weather conditions.

Another new addition is wing-stabilizing measures that stabilize the drone during low-altitude flights, thus preventing cases of crashes in open grounds, as had happened several times in the past two years in Gaza and in the area of the West Bank.

Furthermore, the drone's improved thermal imaging capabilities provide the fighters with a sharper picture.

"We operate throughout the entire West Bank, from the Jenin territorial brigade in the north to the Hebron territorial brigade in the south," a senior official in the unit said.

"We open up (operational) space for the fighters, scan routes and rooftops, and give the ground forces a level-forward picture, also during their exit from villages, as to ensure that no riots or burning of tires take place."

"The fighters work all night, sleep in the morning for several hours and wake up at noon to receive order for the next night," the source said.