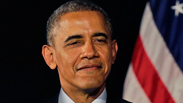 US President Obama
Photo: AP
The Zionist Organization of America issued a harshly worded condemnation of the kidnapping of the three Israeli teens Eyal Yifrach, Gil-Ad Shaer and Naftali Frenkel, and slammed the US' policy as "nothing less than a diplomatic Kristallnacht."

In the statement, the group described Hamas, which Prime Minister Benjamin Netanyahu has said is responsible for the kidnapping, as "Nazi-like".

Taking cue from the official government position, the group also said it views Abbas as responsible for the kidnapping. "

The Zionist Organization of America condemned the kidnapping, as well as Mahmoud Abbas' Palestinian Authority (PA) for its obscene and incendiary newspaper cartoon celebrating and trivializing this horrendous, appalling crime," the statement said, referencing a caricature published on the Fatah's paper Facebook page.

"The ZOA sees the kidnapping by the Nazi-like Hamas, the US- and European Union-listed terrorist, as underscoring the anti-peace nature of the PA, which recently formed a new unity regime Hamas "

The organization then took aim at the Obama administration, which has been in tension with the Israeli government over the latter's demand for a boycott of any Palestinian government that includes Hamas.

"The ZOA also renews its criticism of the Obama Administration for not cutting aid to and ending diplomatic relations with the PA for forming this alliance with Hamas. It is nothing less than a diplomatic Kristallnacht that the Obama Administration has embraced the Hamas/Fatah terrorist alliance and publicly announced that they will continue funding the PA to the tune of some $500 million annually."

ZOA National President Morton A. Klein said, "Abbas is not innocent at all in this regard to the kidnapping. In 2011, Abbas himself publicly said, 'Hamas kidnapped a soldier (Gilad Shalit) and managed to keep him for five years — that's a good thing.' Abbas and the PA strongly approve of a policy of kidnapping Israelis.

"We therefore regard Abbas' verbal opposition to this particular kidnapping as cynical and worthless cliches uttered for the Western media, especially given the PA's long, deceitful record of insincerely condemning terrorist atrocities against Israel only under international pressure."