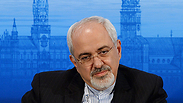 Iranian Foreign Minister Mohammad Javad Zarif
Photo: AFP
TEHRAN - Iran and world powers started drafting Wednesday a comprehensive nuclear agreement but still face many sticking points, Iranian Foreign Minister Mohammad Javad Zarif said.
"Today we have slowly begun to draft the final agreement... but there are still many differences" over the text, ISNA news agency quoted Zarif as saying from Vienna.
"This does not mean we have reached an agreement," said Zarif, according to IRNA news agency.
"Fundamental disagreements" continue to divide Iran and the P5+1 powers - Britain, China, France, Russia and the United States plus Germany - he said.
A new round of negotiations between Iranian diplomats and those of the six powers that opened Monday in Vienna had been "very difficult" so far.
The talks, which run through Friday, are aimed at clinching a comprehensive nuclear deal by a July 20 deadline set up by an interim agreement.
Iran's top negotiator Abbas Araqchi earlier told IRNA news agency that Iran hoped to settle all differences with the six powers by the target date.
The main sticking points are the timetable for a full lifting of crippling US and EU sanctions, and the scale to which Iran would be allowed to continue uranium enrichment, he said.
Enrichment is the sensitive process at the center of Western concerns about Iran's nuclear ambitions, as it can produce both fuel for nuclear power stations and, in highly extended form, the core of an atomic bomb.
The P5+1 want Iran to drastically reduce its uranium production capacity, and keep only a few hundred centrifuges active.
They want to ensure that Iran's nuclear activities are purely peaceful. In return, Iran wants the removal of international sanctions that have choked its economy.
Reuters reported that Iran is refusing to significantly cut the number of centrifuges it intends to keep to produce nuclear fuel, making it hard to imagine a compromise at this week's talks with six powers, Western and Iranian officials said on Wednesday.
But with time running out if a precarious extension of the talks past the self-imposed July 20 deadline is to be averted, the two sides remain far apart over the permissible future scope of Iranian nuclear activity.
In the remarks to IRNA, Araqchi said "it won't be a catastrophe" if the July 20 target date is not met.
"We hope to start work on Wednesday on drafting the text of a final agreement, not the big issues but the general framework and the introduction," Araqchi said.
"There is a still a long way to go before we reach an agreement acceptable to all sides."
An interim deal struck last November led the six powers to release $7 billion from frozen funds in return for a slowdown in Iran's controversial uranium enrichment.
Reuters contributed to this report