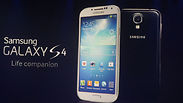 Samsung S4
Photo: Ehud Keinan
A., a resident of central Israel, had a nasty surprise recently, when his new Samsung Galaxy S4 caught fire as it was charging.

"The phone was on charge, and a friend was in the room," he recalls. "I was in the kitchen when I heard a noise. I thought that maybe something had fallen in the next room. I went in and the whole room was filled with black smoke. One sheet was completely alight, the walls were black. Luckily my friend was unharmed."

A. is complimentary about the service he received after the incident.

"I turned directly to customer service. They asked for the device's ID and a description of the incident. They were very nice and efficient; there was no attempt to argue. Later, a representative came to my home - he got me to sign a contract and asked me to make sure that my post online about the incident was taken down. I can't divulge any information about the kind of compensation I got."

A's story is one that has been repeated, with slight variations, at least 20 times around the country in recent months: Galaxy S4 owners complain about their phones bursting into flames, and a short time later they are paid a visit by an agent from Scailex Corp., which is the official Samsung provider in Israel. They are given generous compensation packages and sign a contract pledging not to sue the company for damages, a contract that also includes a confidentiality agreement.

Yedioth Ahronoth has learned that this policy also applies to customers who purchased devices imported to Israel in ways other than through the official importer – a directive that came from Samsung itself.
Ongoing problem
Reports of dangerous swelling and fire in batteries in the Galaxy S4 smartphones first surfaced on various Israeli websites in October 2013. Samsung admitted that this was a defective series of batteries, and announced it would replace any battery for free. But, the company argued, there was no connection between the battery's swelling issue and claims of device explosions.
Samsung didn't recall the product (it is standard procedure under international regulations to replace damaged goods), didn't identify which series of batteries were damaged, and didn't warn the public against using them.
The battery controversy came to light in recent days, following a dispute between Samsung and Scailex, a subsiduary of Suny Electronics Ltd., over Samsung's demand to change its exclusive distribution agreement. Samsung claims that Scailex didn't meet the sales targets set out in the agreement.
Suny boss Ilan Ben-Dov claimed in response that Samsung consistently refused to issue an official recall for its batteries in Israel, despite the fact that there have been thousands of cases of swollen batteries and at least 20 cases of phones exploding have been documented.
Samsung has known about the damaged batteries for a long time, even before the rift with Ben-Dov. After the launch of the S4 in Israel, when reports about the swelling first began, Scailex asked Samsung for operational guidelines. From that point, there was intensive contact between the two sides, stemming from Samsung's total denial of the problem. Nonetheless, two teams of South Korean engineers were sent to Israel to examine the issue.
When the reports about the batteries began to emerge, Scailex asked Samsung to declare an official recall in Israel, to avoid risking people's lives and reduce the chances of direct criminal liability in case of major injury. Samsung objected to such a move, but instructed Scailex to compensate the affected customers, replace their damaged batteries and get them to sign no-claims contracts.
At this stage, Scailex turned to Prof. Yair Ein-Eli, a world-renowned expert on battery technology from the Technion. He examined the Samsung batteries, and determined that they posed a mortal danger. Ein-Eli even met with the Korean engineers, and told them that the battery issue "was a real crime".
Samsung, however, still refused to declare an official recall – a stance it takes to this day. At this stage, the heads of Scailex decided to ask the board of directors to circumvent Samsung and conduct an independent official recall in Israel.
In order to strengthen their request, they asked Prof. Ein-Eli and another expert in the field of battery technology, Prof. Doron Aurbach from Bar-Ilan University, to appear before the board to share their alarming conclusions on the Samsung batteries. The Scailex board rejected the request.
Silent Recall
A few weeks ago, Ben-Dov and his deputy CEO traveled to South Korea, where they met with the heads of the Samsung mobile division. During talks, the sides made a decision to hold an official recall of the batteries, and another team from Korea was sent to Israel to handle the operation. But shortly afterwards, Samsung decided instead on an unofficial recall, and would replace the battery for every Samsung S4 owner who came to the Israeli service centers, for whatever reason.
As a result, cell phone operators in Israel found their warehouses flooded with tens of thousands of S4 batteries that had been sent urgently from Korea without any explanation, save an instruction to perform a quiet recall. Ben-Dov is expected to raise the subject again with the Scailex board, and - if rebuffed again – intends to ask the Communications Ministry to intervene.
Samsung Israel said in response that the battery problem was not a danger to life, and that it had taken steps to resolve the issue.
"From October 2013, Samsung has provided replacement batteries for the ones that swelled, which do not pose a danger to customers," it said in a statement. "This was done for free, regardless of the warranty period, to ensure a perfect user experience for our customers."
Furthermore, said Samsung, "independent third-party laboratories confirmed that the swollen batteries do not pose any danger to customers, and do not cause the device to explode or catch fire."
The company also invited customers who were concerned about their phones to have the battery replaced free of charge, even if the warranty for the device had expired.
"We wish to stress and reassure our clients that Samsung Electronics maintains strict quality control and international safety standards to ensure a safe and pleasant user experience," the statement said.
The company said that the cases of swelling or explosions had been caused by "unauthorized" batteries, or were "the result of external heat or knocks."
Scailex could not be reached for a comment.