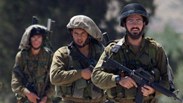 IDF soldiers in West Bank. Decree to ban charity issued as part of Israel's lockdown on Hamas
Photo: EPA
Israel on Thursday banned a British-based charity from operating in the occupied West Bank, accusing Islamic Relief Worldwide (IRW) of being a source of funding for the Palestinian Hamas Islamist movement.

The edict was issued as part of Israel's crackdown on Hamas, through raids on its West Bank institutions and arrests of suspected activists, after accusing the group of abducting three Israeli teenagers who disappeared near a Jewish settlement a week ago.

Related stories:

Defence Minister Moshe Yaalon signed an order declaring the IRW an "unauthorised association" and empowering Israeli authorities to seize any funds the group might send to Palestinians in the West Bank.

No comment was immediately available from the IRW in Britain. Officials in an affiliate office, International Relief in Palestine, in the Gaza Strip said they had no information about the Israeli decision.

According to IRW's website, it has been working in the Palestinian territories since 1994, tending to underprivileged, malnourished and traumatised children as well as creating jobs and encouraging entrepreneurship with interest-free loans.

Founded in 1984, IRW says on its website that it operates in more than 30 countries, promoting economic and social development. It lists the European Commission, the World Health Organization and UNHCR – the UN Refugee Agency – among its "key partners".

In a statement, Yaalon said some of the charity's chapters, including those in the West Bank and Gaza Strip, were run by Hamas members.

"The IRW is one of the sources of Hamas's funding and a means for raising funds from various countries in the world," the statement said. "We do not intend to allow it to function and abet terrorist activity against Israel."

Hamas is designated a terrorist group by Israel, the United States and European Union. It has charitable networks as well as armed cadres, contributing to its popularity among Palestinians.

There has been no sign of life from the missing teenagers since their disappearance, nor any public claim of responsibility or ransom demands – including by Hamas, though neither has it denied involvement.