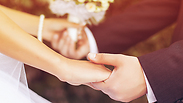 Illustration
Photo: Shutterstock
The Jewish Federations of North America is throwing its support behind Israeli groups seeking to end the ultra-Orthodox monopoly on Jewish rites such as marriage and divorce. The decision was made last week at a secret ballot of 153 JFNA leaders in New York.

A Federations official told Ynet that the decision stems in part from the recent PEW survey, which identified growing distancing between Israel and North American Jews.

Some 85 percent of American Jews are non-Orthodox, and the ultra-Orthodox control over these key parts of Jewish life in Israel is becoming an increasingly frequent source of friction between the Jewish state and the largest community in the Diaspora.

As such, the organization has unveiled its Israel Religious Express Platform (iRep), "a two-year pilot that will engage the Israeli public and participating North American Jewish communities in a unified effort to advance the status of religious diversity in Israel."

Jewish Federations chief exec Jerry Silverman the Jewish Week newspaper earlier this month that iRep's mission "is not to delegitimize the rabbinate but to create more educational awareness of the different types of religious expression in Israel. We want to have a stronger educational and informational platform there, for Israelis to drive the discussion."

Under Israel's draconian marriage laws, only Jews who meet the critera of the Rabbinate are allowed to marry one another, effectively eliminating this option for non-Orthdox Jews.

As many as 20,000 Israeli couples therefore marry abroad in a civil ceremony each year, the Central Bureau of Statistics says, with Cyprus being a favorite destination for such unions.