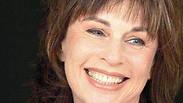 Nurit Hirsh. 'Israel's national composer'
Photo: Ilan Besor
B'nai B'rith World Center will confer a special citation upon Israeli musician and composer Nurit Hirsh in recognition of her contribution to fostering Israel-Diaspora relations through the arts.

The citation will be presented on June 29 at the Menachem Begin Heritage Center in Jerusalem, in recognition of Hirsh's contribution to Jewish and Israeli culture, both in Israel and around the world, as part of B'nai B'rith World Center's 22nd annual Award for Journalism Recognizing Excellence in Diaspora Reportage for 2014.

Enhancing Knowledge

As part of new association, Israeli journalists covering Jewish Diaspora to share knowledge and opinions on their common field of coverage, organize press briefings and conferences.

According to B'nai B'rith, the journalism award is widely acknowledged in the Israeli media industry as the most prestigious prize in its field.

Hirsh has honorably represented the State of Israel around the world for more than 50 years, having composed more than 1,500 songs and put on many moving performances. Her songs have been published in a collection of six books and 13 albums.

"Many of Hirsh's popular songs in Diaspora communities serve as a bridge, a language and a source of shared identity between Israel and Jewish communities around the world, between communities and within communities themselves," B'nai B'rith International said in a statement.

Hirsh's songs symbolize the Land of Israel and it is reflected in the music she has scored for movies, musicals and plays, including "The Policeman Azulay" and "Sallah Shabati."

Many of her songs – such as "Oseh Shalom Bimromav" ("Making Peace from on High") – are considered classics in the Jewish and Hebrew genres and are sung at synagogues, churches and official government ceremonies around the world.

Hirsh's music can be described as modern-Western, influenced by classical sources and combined with ethnic and Jewish-Hassidic motifs. Hirsh derives her lyrical inspiration from the Bible, prayer and Israeli poets, in addition to personal thoughts reflecting universal themes.

Her songs have been translated to many languages including English, Spanish, Japanese, Greek, Turkish and Korean.

"This tremendous corpus of outstanding work produced over such a long period is undoubtedly a lifetime achievement and earns Nurit Hirsh the title of Israel's national composer," B'nai B'rith said.