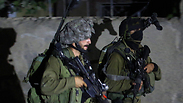 IDF soldiers in overnight raid in West Bank
Photo: EPA
A Palestinian teenager was reportedly killed by IDF fire in Dura near Hebron during an overnight raid of the village, Palestinian medics said.
Palestinian medics said he was hit by a bullet to the chest during clashes between Palestinians the IDF troops. He was transferred to the government hospital in Hebron, where he succumbed to his wounds.
Another report said three Palestinians were wounded at the Qalandiya refugee camp north of Jerusalem, while four others were wounded during clashes at the Dheisheh refugee camp in Bethlehem.
Related stories:
Palestinians threw Molotov cocktails, pipe bombs, a makeshift grenade, firecrackers and stones at IDF soldiers during clashes in both refugee camps. An IDF soldier was lightly wounded from a hand grenade thrown at him during the clashes at Qalandiya.
The army confirmed soldiers used life fire, saying troops were responding to life-threatening situations. It said soldiers were engaged in sporadic confrontations during the raids.
As part of an ongoing effort to find three Israeli teens - Eyal Yifrach, 19, Gil-Ad Shaer, 16, and Naftali Frenkel, 16 - who have been abducted a week ago, the IDF arrested 25 Palestinians in overnight raids in Dura and Dheisheh.
So far, some 320 Palestinians have been arrested as part of Operation Brother's Keeper, 240 of which are Hamas operatives.
A senior military official said there was "an increase in confrontations, last night was reminiscent of the years 2002-2005. So far, some 1,150 different sites have been searched and we are preparing for Friday prayers. We still have sites to check, and more are added as we investigate further."
The official went on to say that "the scale of this operation is the biggest in Judea and Samaria since Operation Defensive Shield. IDF soldiers are working to put an end to terror and continue working thoroughly against Hamas infrastructure, organization officials and its terrorists. The IDF will continue expanding the operation for as long as it takes, and deepens the attack on Hamas as it sees fit."
The Associated Press contributed to this report.