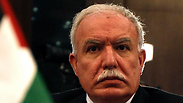 Palestinian Foreign Minister Riyad al-Malki
Photo: Reuters
Palestinian Foreign Minister Riyad al-Malki on Friday accused Israel of overreacting in its response to three missing teenagers and said it had yet to prove Hamas was behind their disappearance.

But Malki said if it is shown that the Islamist movement abducted the teens, that would threaten the Palestinian unity government formed this month.

Prime Minister Benjamin Netanyahu accuses Hamas of last week's abduction of the two 16-year-olds and a 19-year-old from a hitchhiking stop in the West Bank.

Related stories:

Israel has launched a massive military operation to hunt for the teens, arresting 330 Palestinians and searching more than 1,000 locations.

Hamas dismissed the allegation it abducted the teens as "stupid" and Malki said Netanyahu had no right to make the claim without proof.

"He cannot keep blaming one side without showing evidence. When you go to court if you don't show evidence you lose your case," Malki told AFP on the sidelines of a conference at the French Senate in Paris.

"Three kids have disappeared, but in exchange for that the Israeli army has taken 300 Palestinians... they have destroyed more than 150 Palestinian homes since last week," he said.

"Their reaction went beyond logic and what infuriates me the most is the lack of reaction from the international community."

He described Israel's reaction as "exaggerated" and suggested it may be "dragging" on the search for political purposes.

Israel has seized on the opportunity to drive a wedge between Hamas and the Palestinian leadership, whose formation of a merged government brought the West Bank and Gaza Strip under joint administration for the first time in seven years.

"If it comes to be known that Hamas is behind it (the kidnapping), then of course the unity government will be at risk. We are not going to tolerate and accept the fact that Hamas uses and abuses this kind of reconciliation government just to blow the national interests of the Palestinian people," Malki said.

"But if Netanyahu has any evidence, he has put it on the table."

Two Palestinians, one of them a teenager, were reported killed on Friday and two others were wounded in overnight clashes with the IDF.

"We are not going to be dragged into a confrontation. We will refrain, we will prevent people from reacting to Israeli escalating military confrontation," Malki said.