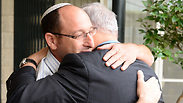 Netanyahu with the father of Gil-Ad Shaer
Photo: GPO, Kobi Gideon
"The nation offers you strength and you give it strength in return," said Prime Minister Netanyahu during his Friday afternoon visit with the parents of the three kidnapped Israeli teens Eyal Yifrach, Gil-Ad Shaer and Naftali Frenkel.

Netanyahu used to meeting to update the families on operations by the security forces to find their boys and arrest their kidnappers. The prime minister stressed that officials and soldiers were doing everything in their capability to bring home the missing teens safely.

"We believe that in the hands of the government, more pressure could hasten the return of the boys and we requested from the prime minister to act accordingly," said Bat Galim Shaer, mother to Gil-Ad.

Related Stories

Speaking at the conclusion of the two hour meeting with Netanyahu, Bat Galim added, "The passing days set difficult challenges before us, but we are a strong nation, a nation that wins. What I'm doing in these complicated days is to try to think positive and think good thoughts."

"It gives me strength to connect to values and focus on strength. I know that the people of Israel take it upon themselves to do good things and that is very strengthening. The children know that we won't rest until we find them."

Netanyahu stressed in the meeting that there was significant progress in the search which, according to him, is thanks to the work of security operations sparing no expense or energy in constant operations.

"We've fortified our forces in the field and we're investing in a tremendous effort in order to reach the boys."

Netanyahu's wife Sara, who was also present, told the parents that meeting with them was very emotional for her. "I ask to continue strengthening you and to hold your hands and embrace you together with all the Israeli people. All of Israel is waiting for the return of your boys."

Eyal Yifrach's mother Iris spoke for all of the parents at the end of the meeting saying, "We are thankful for the attention, the encouragement and the support."

"The meeting was important and reinforced my belief and hopes that security forces will succeed in their mission and return our children. Our heart is broken from missing them," said Iris through tears.

"We're asking all of Israel, when lighting the Shabbat candles... to devote our thoughts to our children who, God willing, will be able to come home and be with us on Shabbat.

Naftali Frenkel's mother also joined her husband in speaking to the press after the meeting with Netanyahu saying, "We felt a personal involvement and lots of empathy from the prime minister and his wife. We received an intelligence and military update on everything their doing to bring the boys home."

"It was a very good meeting... the prime minister listened to question we asked and also to suggestions that we brought up," she concluded.

Earlier Friday Yishai Frenkel, Nafali's uncle, said that according to intelligence information passed on to him, the three teens are known to be alive. "Security officials update us as partners and we know additional things, although we definitely don't know everything," he said.