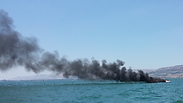 Boat ablaze
Photo: Shalom Zohar
A yacht carrying 11 people caught fire Saturday morning in the Sea of Galilee. The travelers were – including three children – were forced to jump ship and waited in the waters to be rescued.

Israel's Coast Guard has begun an investigation into the incident.

At roughly noon Saturday, some 3 km west from the Ein Gev shore, the boat caught fire for a technical reason yet unknown.

The travelers, residents of central Israel, jumped into the sea and other vessels in the area came and took them to shore.

The Sea of Gailile's Coast Guard arrived at the scene and made sure the vessel was free of travelers and that no injuries were sustained.
Deadly waters
A 50-year-old man and his 7-year-old daughter were killed Saturday in a tragic accident in one of Tel Aviv's northern beaches.

The two were cannoning near the estuary of the Yarkon River and the Mediterranean Sea when their boat was sucked towards the Reading Power Plant's water pumps and then capsized. Their bodies were found near the pumps. It remains unclear how they were pulled into the area.

Saturday also saw a 15-year-old boy from the Bedouin town of Rahat drown to death.