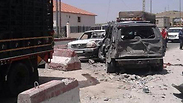 Friday's bombing in Lebanon
Lebanese security chief Abbas Ibrahim, who was the target of a failed assassination attempt Friday, claims the Israeli Mossad was behind the attack.

The suicide attack left one person dead and wounded 37 in the country's Bekaa Valley near the Syrian border, an area where Lebanese Sunni Muslim militants opposed to Syrian President Bashar Assad have been targeting his key Lebanese ally – Hezbollah.

In an interview with Lebanese media, Major General Abbas Ibrahim, a Shiite who heads Lebanon's Directorate of General Security (DGS) and ironically is considered close to Hezbollah, made the claims, citing a document which had surfaced hours before the assassination attempt, and indicated the attack was planned in Ein Al-Hilwa refugee camp, a Palestinian camp known as a hotbed for extremist actions.

Related Stories

"Terror has many faces, and Israel is one of them," said Ibrahim

However, he previously told Reuters that security officials had information that Sunni militants were aiming to assassinate him.

"We miraculously escaped," Ibrahim told Reuters, adding that many officials in Lebanon were being targeted by the reactivation of "terrorist sleeper cells".

"We were suspicious of the (bomber's) car when we were on our way and when the car stopped at the Dahr al-Baydar checkpoint, the explosion went off," he said.

The dead man was a police officer at the checkpoint. The wounded were mainly police, as well as civilians, in the area.