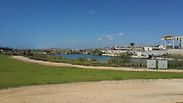 The area where the father and daughter drowned
Photo: Eli Senyor
A father (50) and his daughter (7) were killed when the stand up paddle board (SUP) they were riding on flipped over just of the coast from Tel Aviv's Reading Power station where the force of the pumps from the power plant held the two under water.

Reading sits at the northern tip of Tel Aviv's strip of beaches and the area just in front of the power station where the father and his daughter were drowned is clearly marked by signs forbidding visitors from swimming and surfing.

It was unclear if the paddle board drifted into the forbidden area with the tide, or if the father purposefully and, no doubt unknowingly, guided it within range of the power station's pistons.

"We saw them sitting at the end of the beach and then the father and daughter went in," said Dorit, a Saturday beach-goer. "At some point, when they didn't come back, the family started looking for them."

"They went out on the breakwater and then they saw their board in the pool of the electric company... They called the police and Magen David Adom and it looked like they understood that something terrible had happened."

The mother and wife of the victims was the one who informed the police who contacted the electric company and ordered them to turn off the pumps to allow divers to enter the water safely in a rescue attempt. The daughter was pulled from beneath the water first, but by the time rescuers reached her, she was already dead.

"The police rescued them after they had already passed and there was nothing more we could do but officially declare them dead," said an emergency responder from Magen David Adom.

Israel Electric Corporation offered their condolences to the family and said, "The area is dangerous and that's why there are warning signs in the entire area.