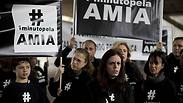 One minute of silence
Photo: AP
SAO PAULO - Dozens of Jewish demonstrators gathered for a minute of silence Saturday before the Argentina-Iran World Cup game, demanding justice for a still unsolved bombing attack against a Buenos Aires Jewish center 20 years ago that left 85 dead and for which Iran has been blamed.

Demonstrators wore black T-shirts marking the event and held banners reading slogans such as "20 years without justice" and "a red card for lack of justice." They recited the names of the 85 victims of the bombing against the Argentine-Israeli Mutual Association, AMIA for short, and then held their heads in silence at 12:59 - exactly one minute before Argentina and Iran kicked off their Group F match in Belo Horizonte.



An Argentinian prosecutor has blamed Iran and its Hezbollah proxy for the attack and Jewish groups are outraged no one has been brought to justice for the worst terrorist attack in Argentine history.

Related stories:

Organizer Dov Bigio said Jewish groups had asked FIFA to hold an official moment of silence before the game to mark the July 18, 1994, attack but did not hear back. Instead, they decided to hold the Facebook-organized vigil in front of the Sao Paulo Museum of Art.

They waved flags of Israel, and one even played its anthem on a violin.




Bigio said similar protests were being held in Rio de Janeiro and at the stadium itself in Belo Horizonte.

"This is a great opportunity to express our need for justice. This is a chance to remind people what happened," said Bigio, 38. "We wanted to pay homage to the victims who can't be here today."




Prosecutor Alberto Nisman last year released a 500-page indictment that accuses Iran and Hezbollah of organizing the attack and continuing to establish cells across South America to launder money and commit acts of terror.

Iran denies any involvement in the bombing, and rejected Nisman's indictment as a Zionist conspiracy theory. There is no indication that Iran will ever allow suspects in the attack to be extradited from the country. The Iranian suspects have spent years on Interpol lists, without being apprehended.

Just last month, a federal court in Argentina blocked a joint "truth commission" the Argentine government set up with Iran to investigate attack.