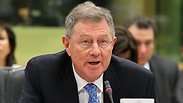 UN's special envoy on the Middle East peace process Robert Serry
Photo: EPA
Foreign Minister Avigdor Lieberman said Saturday the UN's special envoy could be declared persona non grata for offering to help transfer Qatari funds to the Gaza Strip, Channel 2 reported.
Avigdor Lieberman said Robert Serry, the world body's special envoy on the Middle East peace process, had first tried to convince the Palestinian Authority (PA) to transfer $20 million (14.7 million euros) from Qatar to resolve a pay crisis for Hamas employees in Gaza.
But after Palestinian Authority President Mahmoud Abbas refused to do so, Lieberman charged, Serry proposed UN help in making the transfer, the broadcaster reported.
Related stories:
Serry's spokesman Murad Bakri told AFP it was the PA that approached the UN envoy over the issue, and insisted that no decision would be taken without Israeli agreement.
"The UN position is clear - there will be no assistance (in making a transfer) without the agreement of all parties concerned, including Israel," he said.
Israel had been kept informed of "all these discussions", Bakri added.
Lieberman told AFP he was seeking an "urgent meeting" on Sunday about the row in which Israeli television reported the foreign minister would propose that Serry be declared persona non grata in Israel.
"We look upon Robert Serry's behavior with the utmost seriousness, and strong measures will be imposed," Foreign Ministry spokesman Yigal Palmor told AFP.
"The Foreign Ministry issues diplomatic visas and can also withdraw them," he added.
Prime Minister Benjamin Netanyahu's office said in a statement the premier told UN Secretary General Ban Ki-moon he opposed the transfer of Qatari funds to Hamas, which he accuses of kidnapping three young Israelis in the West Bank on June 12.
On June 13, the gas-rich Gulf state of Qatar said it would help the new Palestinian unity government pay former employees of Islamist movement Hamas's disbanded Gaza government.
Doha said it would contribute a total of $60 million while the PA grapples with a pay row, the first challenge for a government formed to try to end years of Palestinian rivalry.
The dispute erupted when the PA's Gaza-based staff received their salaries but their Hamas counterparts did not. This prompted Hamas to demand that employees from its disbanded Gaza government be taken onto the PA payroll.
The PA, which previously refused to adjust the salaries of Hamas officials because they were named after Fatah forces were ousted from the Gaza Strip in 2007, announced the creation of a special fund to pay wages while the government discussed how to resolve the issue.