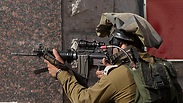 IDF activity in the West Bank
Photo: AP
Two Palestinians were killed overnight Saturday and 11 were wounded during clashes with the IDF in Ramallah and Nablus. In addition, IDF forces arrested nine Palestinians as the search for the three teens who went missing in Hebron continues.
Since Gil-Ad Shaer, 16, from Talmon, Naftali Frenkel, 16, from Nof Ayalon, and Eyal Yifrach, 19, from Elad. disappeared last Thursday, the IDF has conducted a massive search operation in the West Bank, which has seen over 300 Palestinians arrested and at least four killed.
In Nablus, Muhammad Atalla was killed during clashes between youths and IDF forces, and 11 Palestinians were wounded. The clashes broke out when the youths attempted to prevent the IDF from conducting arrests in the area.
Israeli border police officers shot and killed 36-year-old Ahmed Haled in the Al-Ain Refugee camp in Nablus, after he approached the forces in what was described as a threatening manner. The army reported that they fired warning shots before shooting him. IDF sources says it appears the Palestinian was mentally unstable.
The majority of search efforts for the three is still in the area northwest of Hebron and efforts over the next day or two will continue in the same area.
IDF's wave of arrest continued overnight Saturday, as nine Palestinians were arrested. In addition, military forces raided five 'Dawa' Hamas affiliated charities.
"We are receiving stronger evidence about the link between Dawa and terrorism," a senior military official said. The official stressed that "the fact that there dozens of people are being arrested every night does not mean that we are taking the foot off the pedal, but that we are concentrating our efforts in searches north of Hebron. A total of 350 people have been arrested since the beginning of the operation and nearly 1,300 targets have been scanned."
Special rescue units stationed in the West Bank were rushed to the Hebron area on Saturday where, according to police and other security sources, they focused searching through caves and wells with the help of the Paratrooper brigade as part of Operation Brother's Keeper to find the missing teens continues.
Despite the extensive search, there haven't been any breakthroughs in the search so far. Without any concrete intelligence leads, the IDF started searching a wider area - starting in Highway 35, north of Hebron, where the kidnapping occurred, and continuing west towards Highway 60.
Elior Levy and Associated Press contributed to this report.