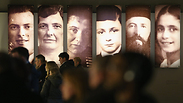 Yad Vashem. 'Given significance of Turkish society in Muslim world, this is an important step'
Photo: Getty Images
Some 15 Turkish academics are participating in a special seminar this week at Yad Vashem's International School for Holocaust Studies.

The seminar, which focuses on Holocaust studies and geared specifically for Turkish university professors and lecturers, is the first of its kind and follows an educational conference which took place in Turkey at the Galatasaray University in Istanbul last October.

Bridging the Gaps

Bassam Aramin, whose 10-year-old daughter was killed by IDF rubber bullet, visits Jerusalem's Holocaust museum, says 'I surely can identify with feeling like a refugee – humiliated, weak, lost – but the tragedy of the Holocaust is very different.'

The seminar is a joint endeavor of Yad Vashem and the Aladdin Project, and is supported by the International Holocaust Remembrance Alliance (IHRA) and the ICHEIC Humanitarian Fund.

During the week-long seminar, which opens Sunday, participants will have in-depth tours of the museums, archives and sites at Yad Vashem, as well as discussions with leading historians and experts in the field of Holocaust education, history and research.

For the majority of participants, most of whom hold PhDs in history, political science and international relations, this is their first visit to Israel.

The seminar, part of a series of sessions and online events, follows a special conference organized by the International School, in partnership with the Aladdin Project, in Turkey in October 2013, with a follow-up session exploring concrete projects to teach the Holocaust in Turkey planned for later this year.

"We are very pleased to be hosting this impressive group of academics at our International School for Holocaust Studies," said Yad Vashem Chairman Avner Shalev. "Given the significance of Turkish society in the Muslim world, this is an important step. At Yad Vashem we are witnessing interest in the Holocaust that traverses countries, religion and language and are ready to meet the challenges ahead."

Anne Marie Revcolevschi, president of the Aladdin Project, said: "I am pleased that academics from universities all across Turkey are participating in this program, and it's a privilege to do this in partnership with Yad Vashem and Avner Shalev.

"We will continue our efforts to introduce Holocaust education in other parts of the Muslim world with four more conferences planned in Baku, Astana, Dakar and Rabat."