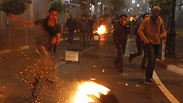 Riots near Ramallah police station
Photo: AFP
Palestinian youths threw stones and bricks at a Palestinian Authority police station in Ramallah overnight Saturday, a response that may indicate growing anger at the IDF operation and Palestinian President Mahmoud Abbas' decision to continue security coordination with Israel in the search for the three missing Israeli teens.

As part of the coordination agreement, Palestinian security forces withdraw back to their positions when Israeli troops raid West Bank towns.

Palestinians throw stones at Ramallah police station ( )

Israel's large-scale arrest sweep as part of Operation Brother's Keeper to locate the missing teens Gil-Ad Shaer, Naftali Frenkel and Eyal Yifrach, has led to growing confrontations in the West Bank after years of relative calm.

Related stories:

Chanting "collaborators", dozens of people hurled rocks at a police station in Ramallah and damaged three police cruisers when policemen remained inside the building rather than joining protesters in confronting Israeli troops who entered the city, witnesses said.

Since the teens disappeared, the IDF has conducted a massive search operation in the West Bank, which has seen over 300 Palestinians arrested and at least four killed.

Overnight Saturday, two Palestinians were killed 11 were wounded during clashes with the IDF in the West Bank.

Enraged by the arrests, the youths took out their anger on the Palestinian Authority. In the video, they are shown to be throwing stones at the police station in Ramallah, striking police vehicles with bats and throwing bricks.

Sunday's deaths brought the total number of Palestinian casualties to four since Israel launched its most extensive military operation in the West Bank in several years.

In Nablus, IDF troops killed 36-year-old Ahmed Haled, during clashes that broke out in the Al-Ain Refugee camp in Nablus, after Israeli border police officers entered the camp and conducted searches in houses in the area.

The army believes that Haled, whose body was transferred to the Rafidia Hospital in Nablus, was mentally unstable.

Shortly after the incident in Nablus, clashes broke out between Palestinian youths and IDF forces in Ramallah as well.

The video shows the youths throwing stones towards army vehicles. According to Palestinians, Mohammad Atalla, who was observed standing on one of the rooftops in the city, was shot dead during the clashes. Palestinians further reported that 11 Palestinians were wounded when the clashes erupted.

The clashes broke out after the Palestinian youths attempted to prevent IDF forces from conducting arrests in the area.

As part of the crackdown, Israel is trying to dismantle Hamas infrastructure in the West Bank, after blaming the kidnapping on the Islamic militant group. Hamas has praised the abductions but not claimed responsibility.

Associated Press and Reuters contributed to this report.