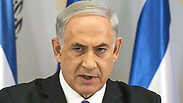 Benjamin Netanyahu
Photo: AFP
WASHINGTON - "When your enemies are fighting each other, don't strengthen either one of them; weaken both," Prime Minister Benjamin Netanyahu advised US policy makers in an interview with Meet the Press Sunday.

The prime minister's remarks addressed American policy toward Iran and Iraq's battle with the Muslim extremist group Islamic State of Iraq and al-Sham (ISIS). Israeli officials harbor concerns that the US may be going easy in negotiations over Iran's nuclear program in return for political and possibly military help from Iran in blunting ISIS' astounding territorial advances in Iraq over the last few weeks.

"I think that there are two actions you have to take," said Netanyahu when David Gregory asked what actions he felt the US should be taking to counter ISIS, a militant Sunni group vs. Iran's regime which aligns with Shia beliefs.

Related Stories

"One is to take the actions that you deem necessary to counter the ISIS takeover of Iraq, and the second is not to allow Iran to dominate Iraq the way it dominated Lebanon and Syria. So you actually have to work on both sides," concluded Netanyahu.

Netanyahu's comments come as the increasingly desperate situation with ISIS came one step closer to Israel's doorstep Sunday. Associated Press reports indicated that ISIS had captures Iraq's largest border crossing with Jordan for the first time, increasing fears that ISIS may attempt to expand operations to include Israel's close neighbor, Jordan.

ISIS military gains have brought them large swaths of territory in western Iraq and Syria where reports have surfaced of mass executions and crucifixions, but Netanyahu clearly stressed in the Meet the Press interview that Iran's nuclear program remains his top concern.

"By far the worst outcome that could come of out of this is that one of these factions, Iran, would come out with nuclear weapons capability," said the prime minister. "That would be a tragic mistake. It would make everything else pale in comparison... these weapons, nuclear weapons, could kill millions. That should be prevented at all cost."

Netanyahu stressed the need for a "good deal" between the US and Iran which, he said, should use the agreement on Syria's chemical weapons as an example to follow.

"They haven't solved the problem in Syria between Sunnis and Shiites, but you did remove the bulk of the weapons, and soon all of the weapons and stockpiles," said Netanyahu.

The prime minister also addressed a recent statement from Palestinian President Mahmoud Abbas in which he said that Palestinians needed to be active in assisting security forces in their search for three Israeli teens kidnapped 10 days ago, most likely by Hamas operatives.

"The missing settlers in the West Bank are human being like us. We must look for them and return them to their families," said Abbas in his statement.

"I think it was good that he said that," Netanyahu told Meet the Press. "I think it would be tested now by his willingness to stop the incitement against Israel and the glorifications of terrorists. This would be a good departure towards that direction."

Netanyahu also echoed his comments from many previous occasions, saying that Abbas' commitment to peace could be proven by cancelling the unity pact between Fatah and Hamas.

"I think you can't have it both ways. You can't talk about peace with Israel and be in a unity government with Hamas that kidnaps Israeli teenagers and calls for Israel's destruction. You can have one or the other, but not both. I hope President Abbas chooses the right thing."

Netanyahu claims to have concrete intelligence information proving Hamas involvement in the kidnapping, but no group has publically made any claims of responsibility considered to be legitimate or believable.

John-Michael Kibrick contributed to this report.