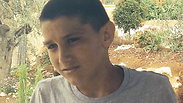 Mohammed Karaka
Photo: alarab.net
IDF officials met Sunday to discuss the proper response in the Syrian sector to the anti-tank missile attack on the Golan Heights earlier in the morning which claimed the life of 13-year-old Mohammed Karaka.

The Israeli military initially responded by firing artillery rounds into outposts on Syrian territory, but on-going discussions raised the possibility of attacking other targets on the Syrian Golan.

The teen, who had accompanied his father to work on the first day of summer break, became the first Israeli casualty on the Syrian border since the civil war began in the neighboring country over three years ago.

Related Stories

The father, who is a subcontracted Defense Ministry employee driving a water truck for construction work on the border fence between Israel and Syria, sustained light-to-moderate wounds and was evacuated to the hospital. He has since been released. Two other people were wounded in the incident.

Investigations conducted Sunday night in GOC Northern Command raised the possibility that the advanced Kornet anti-tank missile was fired from an area contested by the Syrian army and rebel forces.

The investigation concluded that that the terror cell which conducted the attack had identified and targeted the two Israeli vehicles in Tel Hezeka, across the new security barrier in the area.

The IDF believes the attack on the Syrian border had no connection to recent developments in the Gaza Strip or the West Bank. The full investigation will also examine why IDF outposts in the area failed to spot the terror cell.

Meanwhile, hundreds of people came to pay their respects to the deceased and to console the grieving father in the town of Arraba in the Galilee. Family and friends also visited Mohammed's father.

"All his classmates are sad and trying to understand how this happened. He was always laughing. He may be dead, but he will always live on in our hearts," said a family friend.