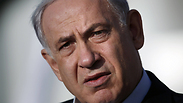 Benjamin Netanyahu
Photo: AFP
Israel's prime minister on Sunday criticized the decision by the Presbyterian Church (USA) to divest from US companies that operate in the Israeli-occupied West Bank, saying the vote was misguided and unfair.

In an address to an international gathering of Jewish journalists, Prime Minister Benjamin Netanyahu described Israel as a rare bright spot in a turbulent region. While stopping short of accusing the Presbyterians of anti-Semitism, he wondered why Israel had been singled out.

"When the Middle East is fragmented in this horrible war, this savage, savage war between militant Shiites and militant Sunnis ... the only place where you have freedom, tolerance, protection of minorities, protection of gays, protection of Christians and all other faiths is Israel," said Netanyahu.

Related Stories

The Presbyterian Church (USA) on Friday voted to sell church stock in Caterpillar, Hewlett-Packard and Motorola Solutions, three companies whose products Israel uses in the occupied West Bank.

The 1.8 million-member church became the most prominent religious group in the US to endorse divestment in a sign of protest against Israeli policies toward the Palestinians. It rejected a similar proposal two years ago.

Netanyahu called on the group of nearly 300 international Jewish journalists to "defeat a lie ... with truth, with facts, with courage."

"Let's arrange a bus tour for (Presbyterians) in the region. Let them go to maybe Syria, Lebanon, Iraq. And my only suggestion for them ... (make) it be in an armor-plated bus," he added.

Presbyterians who advocated for divestment insisted their action was not part of a broader movement known as BDS - boycott, divestment and sanctions against Israel - but the decision to divest is timely. US-led peace talks with the Palestinians recently collapsed and Israeli military forces have stepped up operations in the West Bank since three Jewish teens were abducted on June 12.