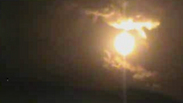 The Israel Air Force launched attacks on nine Syrian military positions in the Golan Heights late Sunday night in response to a missile attack earlier in the day that killed a 13-year-old boy on the Israeli side of the border.
The IDF said the targets belonged to President Bashar Assad's Syrian army, and included command posts and firing positions. The military confirmed direct hits on the targets. High-precision ground-to-ground Spike (Tamuz) missiles were also used in the attack.
Residents of northern Israel reported hearing explosions from across the border with Syria.
The strikes were launched shortly after midnight, when IAF jets fired missiles on Syrian army positions on the Syrian-controlled Golan Heights.
Syrian opposition sources claimed that there were 3 attacks on Syrian army positions. They said the headquarters of Syria's 90th Division, which is stationed in Quneitra, was also attacked.
Related stories:
The IDF Spokesperson's Unit said Sunday's cross-border missile attack on Israeli vehicles was a "continuation of a number of attacks in recent months against IDF forces near the border in general and this area specifically. The IDF will act with determination at any time and in any way it sees fit to protest the citizens of the State of Israel."
Earlier in the day, the IDF responded to the killing of Israeli teen Mohammed Karaka by firing artillery rounds into outposts on Syrian territory, but later discussions raised the possibility of attacking other targets on the Syrian Golan.
Investigations conducted Sunday night in GOC Northern Command raised the possibility that the advanced Kornet anti-tank missile was fired from an area contested by the Syrian army and rebel forces.
The IDF believes the attack on the Syrian border had no connection to recent developments in the Gaza Strip or the West Bank. The full investigation will also examine why IDF outposts in the area failed to spot the terror cell.