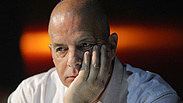 Former Shin Bet Director Yuval Diskin
Former Shin Bet director Yuval Diskin on Monday criticized government policy on prisoner releases, after a Palestinian freed as part of the Gilad Shalit prisoner deal was arrested for killing an Israeli man in a Passover terror attack.
"We shouldn't be surprised that a prisoner released in the Shalit swap is involved in the murder," Diskin wrote on his Twitter account, noting that the percentage of those released who return to terrorism, mainly from Hamas and Islamic Jihad, has always been very high.
Related stories:
"The data has been available for years to anyone who wants it," the former Shin Bet head wrote. "It's even worse. The First Intifada broke out largely as a result of the release of the prisoners in the Jibril deal of 1985.
The Second Intifada changed its direction only when the Palestinian Authority opened the doors of its prisons and those who left established terror networks, explosives laboratories and explosive materials."
According to Diskin, "the subject at issue is not this or that terrorist attack, but crises lasting from five to seven years that led to hundreds of Israelis dead and thousands wounded, and as a result thousands of deaths on the Palestinian side.
"These facts vanish when we deal with the grief and pain of one family or another of a soldier or civilian who has been kidnapped. The public debate on this issue has not yet been exhausted."
Diskin also raised the concept of a proportionate release of prisoners, as laid out in a 2008 inquiry into the matter.
"It's not an easy debate, but we have the Shamgar Commission's report that can serve as an excellent basis for such a discussion and for making decisions. I believe that there should be far-reaching consequences. Do not release terrorists under pressure. At the most, the release should be proportional. That is my opinion based on my professional experience.
"I am not making light of the moral and public aspect. However, the results of these releases also have a moral and public aspect to them. I think it's time to discuss these issues. The release of prisoners under the Jibril deal is the major cause of the changes and processes that led to the First Intifada. I was there in the field and I felt it daily.
"The mass of the prisoners who were released built a new leadership that was both radical and activist. That, coupled with the exhilaration and the feeling that they managed to bend Israel, led to the outburst."