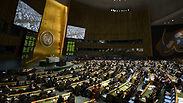 UN General Assembly Hall
Photo: AFP
The UN Security Council was unable to agree on a statement to the press condemning the kidnapping of three Israeli teenagers - Eyal Yifrach, Gil-Ad Shaer and Naftali Frenekel - on Monday, due to a disagreement between Jordan and the US on whether or not to condemn Israel as well.

Russia's UN Ambassador Vitaly Churkin presented a draft statement but diplomats present at the meeting said both Jordan and the United States were dissatisfied and proposed amendments.

It soon became clear, diplomats said, that the US and Jordanian delegations would be unable to agree on a mutually acceptable statement to the media. Washington, Israel's traditional protector on the council, wanted no condemnation of Israel while Jordan demanded a tough rebuke of the Jewish state.

Related stories:

"Jordan wanted a condemnation of collective punishment by Israel ... and a call for both sides to exercise restraint," a council diplomat told Reuters.

But such a statement was not meant to be.

"Unfortunately members of the Security Council were not able to find common ground," Churkin told reporters. "Some delegates want to have very strong language condemning Israel, another delegation did not want to have any reference to Israel at all."

Council statements must be approved unanimously.

Israel's UN Ambassador Ron Prosor issued a statement after the council meeting defending Israeli actions.

"Some nations behave as if Israel should roll out the welcome mat for Hamas," he said. "Israel will not allow this terrorist group to trample on its citizens. Israelis are acting in self-defense."

The Palestinian observer Riyad Mansour condemned the "massive aggression against our people in the Occupied Palestinian Territory."