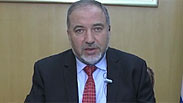 Lieberman
Photo: Eli Mendelbaum
A prisoner release deal with the Palestinians, such as the ones freed in the Shalit deal and those freed as a gesture to restart peace talks, will no longer be possible, Foreign Minister Avigdor Lieberman told Ynet on Tuesday.

"I voted against the Shalit deal and that says it all about how I feel about it, both then and now. I think we should all learn the lesson as quickly as possible and it is obvious that no deal - not as a gesture, not as a prisoner swap and other types - is possible anymore," Lieberman said.

While the foreign minister voted against the deal at the time, he allowed his faction members to vote as they like, instead of imposing a united party position.

That decision, he said, was a mistake. "As far as Yisrael Beiteinu is concerned, we've learned our lesson. Last time, Uzi Landau and I voted against, but we gave the ministers freedom to vote as they want, and some of them voted in favor. There won't be freedom of voting anymore and we will firmly object any type of deal," the Yisrael Beiteinu leader said.

Lieberman was speaking as Operation Brother's Keeper, to search for the three abducted Israeli teenagers - Eyal Yifrach, Naftali Frenkel and Gil-Ad Shaer - was on its 12th day.

"I think there are still a lot of Hamas targets and we must judge them severely. Just like the house of the killer of (police) commander Baruch Mizrahi was destroyed, there are a few more targets and more to do," the foreign minister stressed.

As the operation prolongs and the teens have yet to be found, an IDF official said Monday that the army was about to exhaust the search operation in the Hebron area.

"We have a lot of intelligence, but we still can't capture the perpetrators. But the noose is tightening and I have no doubt that security forces will make the maximum effort, and succeed," Lieberman said, warning that "you can't stand put a timer on the operation."

"We do not limit the IDF and security forces in operations they seek to conduct. On the contrary, we give them complete freedom of action and will continue to do so. They are doing everything they can," he added.

When asked about Palestinian President Mahmoud Abbas' condemnation of the abduction, Lieberman was skeptic.

"Abu Mazen is not doing this for us, but rather for himself," the foreign minister said, using Abbas' nickname.

"He understands that the more significant threat is not Israel, but Hamas. He knows what happened to Fatah members in the Gaza Strip when Hamas took over, so he knows he's at risk."