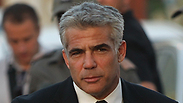 Lapid: Additional proof of Israel's economic might
Photo: Motti Kimchi
Israel has joined an influential group of rich nations that help poor indebted economies, in the latest boost for Israel's international economic image.
The Paris Club of creditor nations announced Israel's induction Tuesday, bringing the club's membership to 20 countries.
The club is an informal group of governments, including the United States, that collectively negotiate deals with poor countries struggling with huge debts. It was created in 1956, and has worked out loan deals for 90 countries.
It can cancel or restructure debts when countries are at risk of default. Argentina, for example, agreed in May with the Paris Club on a plan to resolve $9.7 billion in debts that have gone unpaid since its economic collapse in 2001-2002.
In a statement, Israeli Finance Minister Yair Lapid lauded his country's inclusion in the club, saying it "shows Israel's economic might and presents additional proof that Israel's place is alongside the strongest countries in the international arena."
Once a tiny farming nation, Israel has evolved into a high-tech economy with numerous startups and companies in communications, software and military technology.
After a 16-year effort, Israel was accepted into the Organization for Economic Cooperation and Development, a policy forum for the world's most developed economies, in 2010. Palestinian officials had protested, and the Paris-based OECD had expressed concern about high levels of poverty and unemployment, especially among minority Arab populations, before agreeing to Israel's membership.
Such membership can also provide a diplomatic boost and recognition for a country's economic accomplishments.
Israel's inclusion in these bodies, and its economic advances in recent years, comes as older rich economies in western Europe have struggled.
France in particular has faced two recessions in recent years and has been unable to get growth going again even as the US economy has largely recovered. In part because of this, record numbers of French Jews have left France in recent years for Israel. They also cite concerns about the resurgence of the far right and extremist Islam.