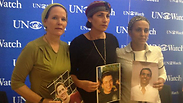 Rachel Frenkel, Bat Galim Shaer and Iris Yifrach
GENEVA - "The world is indifferent," said Rachel Frenkel, Bat Galim Shaer and Iris Yifrach, the mothers of the three abducted Israeli teens, in a press conference held in Geneva after they participated in a UN session.

Earlier Rachel represented the three mothers and addressed the UN Human Rights Council, she urged the international community to support Israel's efforts to find and release the three missing boys.

Mothers address UN council ( )

The council is considered to be hostile towards Israel, and its human rights' record has been condemned numerous times by the UN body. The mother's speech before the council was organized by the pro-Israel UN Watch.

Security forces have been searching for the three kidnapped teenagers - Gil-Ad Shaer, Naftali Frenkel, and Eyal Yifrach - for more than a week-and-a-half, but there is still no information to conclude their fate or determine their whereabouts.

"It is inhumane and illegitimate to kidnap boys. Hamas should know better than kidnapping kids," Gil-Ad's mother said, following Israel's official position that the Islamist groups is behind the abduction.

"We feel that an important informational effort has been achieved here today," Shaer told journalists. The world is business as usual and no one is sounding our claims. We have come here to sound the alarm and say that you cannot ignore the kidnapping of kids," she said.

"Turning to the public is very important, but it is clear that Israel is the one responsible to find and free our children and we know it won't disappoint us," the mother said in the press conference.

Eyal's mother, Iris Yifrach said "we can't go on without our children at home, and we will do whatever it takes to bring them back".

Addressing the UN Human Rights Council, Frenkel said "I believe much more can be done and should be done by so many… Doesn't every child have the right to come home safely from school?"

Frenkel gave brief descriptions of the kidnapped boys including their hobbies and basic personalities. "I come here today as a mother," she said.

Frenkel spoke as the mothers of the two other kidnapped boys sat behind her in solidarity. "We've heard nothing, no news, no sign of life," said Frenkel asking the UN nations to take greater action to help bring the missing teens' home.

The US recently vetoed a Security Council resolution that would have condemned the killing of Palestinians by the IDF as they search the West Bank for the missing boys.