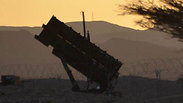 Iron Dome
Photo: Meir Ochion
Four rockets were fired from Gaza Strip at Israel Tuesday evening, prompting the IAF to return fire and attack Gaza terror targets.

The Iron Dome missile defense system intercepted at least two of the rockets, while a third failed to make it to Israel, killing a Palestinian baby and injuring four of her family members.

The attack came as IDF forces searched the West Bank for the three missing Israelis, and joined a tense week in terms of security that saw a Gazan terrorist penetrate into Israel and an Israeli killed by Syrian fire in Golan.

Over 20 rockets have been fired at Israel since Operation Brother's Keeper to find Eyal Yifrach, Gil-Ad Shaer and Naftali Frenkel began.

Watch Iron Dome interception ( )

The Color Red siren alerting citizens of incoming rockets was sounded twice Tuesday evening in the Hof Ashkelon Regional council, as two rockets were fired at the area only minutes apart. Two of the rockets were intercepted by the missile defense system, while a third Gaza rocket fail to make it to Israel.

According to Palestinian reports, one of the rockets landed in Gaza and killed a three-year-old girl, as well as injuring four of her family memebrs; two were in serious condition.

Shrapnel and debris from the interception scattered over local communities, but no injuries or damage was reported.

Another rocket exploded later in the evening, hitting a community in the Sedot Negev Regional Council. No injuries were reported, but a structure was lightly damaged.

The fire joined a list of security incidents which threatened Israel from Gaza this week. A terrorist armed with a hand grenade was arrested on Sunday after infiltrating into Israel from Gaza Strip, it was the first time in over a year that a terrorist managed to enter Israel illicitly.

IAF fighter jets attacked three terror activity sites in the Southern Gaza Strip and one terror activity site in the central Gaza Strip overnight Saturday, in response to rocket fire into Israel on Saturday night.

Three rockets exploded onto open areas in the Sha'ar HaNegev Regional Council Saturday; no one was hurt and no damage was caused.

Earlier Saturday morning, a rocket hit a road in the Hof Ashkelon Regional Council. No one was hurt in the incident either, but damage was caused to the road.

Ashkelon Mayor Itamar Shimoni said at the time that "for now, we're giving the IDF all the time it needs to strike them (Hamas) and bring the boys back home safe and sound."

Sderot Mayor Alon Davidi added that the residents of his city "have a lot of experience (with rocket fire) and remain strong facing challenges. They're willing to to pay the price of escalation."