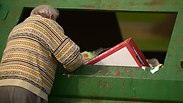 Poverty in Israel. Illustration
Photo: Avi Rokach
The Central Bureau of Statistics has published its annual poverty report Tuesday, and revealed the grim reality many Israelis find themselves in.

According to the report, one out of six Israelis above the age of 20 has given up on food at least once because of economic troubles over the past year. That is a massive 16 percent of Israelis, or 822,200 people, a five percent increase since three years ago.

Eleven percent were forced to go without a hot meal at least once every two days, the report claimed.

Related stories:

Initial results paint a gloomy picture of poverty coupled with rising cost of living and racial fault lines. According to the report some 38 percent of those living in a household in which the average income per resident was NIS 2,000 were forced to pass on food.

The report claimed that 37 percent of Arabs were forced gave up on food as opposed to only 13 percent of Jews.

In terms of religious devoutness, the report revealed that some 33 percent of the ultra-Orthodox population claimed it had gone hungry because of financial difficulties, as opposed to 14 percent of those who define themselves as "religious", 13 percent of those who describe themselves as "traditional" and eight percent of those identifying as "secular".
Going cold
But it was not only food poverty-stricken Israelis were giving up on. According to the report, some 41 percent – or 1.2 million – Israelis chose not to either heat or cool their homes because of the hefty financial costs it entails.

Some 452,300 Israelis (9%) were cut off from electricity after repeatedly failing to pay their bills on time, thus possibly indicating why such a high percentage chose to leave the heating off this winter.

Generally, some 39 percent of Israelis above the age of 20 said they couldn't make ends meet and could not afford to pay all of their monthly bills. This percentage was further exacerbated when viewed from an ethnic perspective, with 62 percents of Arabs saying they couldn't pay their livings costs as opposed to 34 percent of Jews.

Even more concerning was the rise in the number of working couples failing to make ends meet. Some 34 percent of the households in which both partners work, and are between the ages of 25 and 64, cannot pay their bills. When only one partner works the number rises to 51 percent and when neither work it goes up again to 66 percent.

Some 27 percent of Israelis said their economic condition had worsened in the past year in comparison to their state five years ago; 24 percent of Jews in comparison to 42 percent of Arabs.