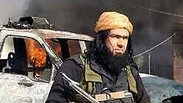 ISIS fighter in Iraq
Photo: AP
Cooperation between Israel and Jordan is growing as armed Sunni men from the Islamic State of Iraq and al-Sham (ISIS) make additional gains in Iraq, near the Jordan border, Jordanian sources told Ynet, detailing Jordan's position regarding the ongoing crisis and potential US intervention.

"There is a very good cooperation between us regarding ISIS' growing presence in Iraq and Syria, but also on issues relating to other radical forces in the Middle East which have their sights set on Israel and Jordan," the diplomatic source said.

Related stories:
ISIS success in Iraq threatens to redraw borders
ISIS expand offensive in western Iraq
ISIS is affiliated with al-Qaeda and together with the aid of Sunni tribesman has in recent days managed to take over – albeit only for a short period – parts of the tribal border between Iraq and Jordan. And a recent report in Al-Arabiya claimed Jordan will send military forces to the area.

Speaking with Ynet, the source said cooperation with Israel has only increased as the situation in Iraq has deteriorated.

"The developments on the other side of the border (between Jordan and Iraq) are still unclear, but the Jordanian army is already doing whatever it can to quell any threat from the area.

"As of now the border crossing is operative. Jordan is holding talks with regional forces to find a solution to the political conflict in Iraq. This is not just the ISIS issue, but a deteriorating political situation," the official said.

What is Jordan's position regarding US military involvement?

"The US has a military agreement with Iraq. This is a sovereignty related issue between two countries and has nothing to do with Jordan. However, there are some regional players who think the US must become involved to neutralize radical forces. We have no preference, it is not our issue."

Last weekend saw a pro-ISIS demonstration in the Jordanian capital of Amman. What significance do you attribute to this event?

"It is no secret there are radical forces in Amman. The developments in Iraq have helped encourage fanatics to admit they support the organization. Nonetheless, as of now, we have seen no real connection between those who expressed support and ISIS in Iraq. "
Oil and death in Iraq
Meanwhile, US Secretary of State John Kerry visited Iraq as fighting continued in a number of key cities.

On Monday, two Jordanian officials said the border crossing almost 575 km (357 miles) from the Iraqi capital and nearly 320 km (199 miles) from Amman was effectively closed after gunmen took control of the crossing

An army source confirmed that army units had been put in a state of alert in recent days along the 181-km (112-mile) border with Iraq, redeploying in some areas as part of steps to ward off "any potential or perceived security threats".

The UN, meanwhile, said more than 1,000 people, most civilians, have been killed in Iraq so far this month, the highest death toll since the US military withdrew from the country in December 2011.

A weeklong fight for control of Iraq's largest oil refinery stretched continued Tuesday with helicopter gunships attacking what appeared to be formations of Sunni militants preparing for another assault on the facility in Beiji, a top military official said.

Chief military spokesman Lt. Gen. Qassim al-Moussawi has denied reports that the facility has fallen to the rebels.

Government air forces also reportedly bombed the town of Qaim near the Syrian border on Tuesday, days after it was seized by Islamic extremists in Anbar province, west of Baghdad. Provincial government spokesman Dhari al-Rishawi said 17 civilians were killed.

West of Baghdad, authorities found the bodies of 12 policemen killed as militants seized the Anbar town of Rutba this weekend. Militants also stole at least 6 billion Iraqi dinars (about $5 million) from the town's state-run bank, the authorities said, declining to be identified because they were afraid of retaliation by the militants.

The bodies of three men who were shot in the head and chest and had their hands and legs bound also were found on the streets of three Shiite neighborhoods in and around Baghdad, according to police and hospital officials.

The Associated Press contributed to this report