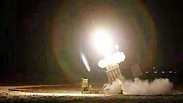 Iron Dome intercepts two of four rockets fired at Israel
Photo: Tal Shamir
Palestinian medical sources reported Tuesday that a three-year-old girl was killed after a rocket fired at Israel failed to hit its target and landed in Gaza. The rocket was one of four fired at Israel Tuesday evening.
Four members of the girl's family were injured after the rocket landed on their house in Beit Lahia, in the northern part of the Strip. The four were evacuated to a hospital in the Gaza Strip.
The Israeli Air Force attacked several terror targets in the Gaza Strip Tuesday night in response to rocket fire into Israel in the evening hours.
Earlier in the day four rockets were launched at Israeli communities, and one rocket even exploded in one of the Sedot Negev Regional Council communities. Two rockets were intercepted by the Iron Dome missle defence system.
The attack came as IDF forces searched the West Bank for the three missing Israelis, and joined a tense week in terms of security that saw a Gazan terrorist penetrate into Israel and an Israeli killed by Syrian fire in Golan.
Over 20 rockets have been fired at Israel since Operation Brother's Keeper to find Eyal Yifrach, Gil-Ad Shaer and Naftali Frenkel began; and over 200 have been fired since the begining of the year.
The Color Red siren alerting citizens of incoming rockets was sounded twice Tuesday evening in the Hof Ashkelon Regional council, as two rockets were fired at the area only minutes apart. Two of the rockets were intercepted by the missile defense system, while a third Gaza rocket fail to make it to Israel. The fourth fell in an open area.
Shrapnel and debris from the interception scattered over local communities, but no injuries or damage was reported.
Another rocket exploded later in the evening, hitting a community in the Sedot Negev Regional Council. No injuries were reported, but a structure was lightly damaged.
The fire joined a list of security incidents which threatened Israel from Gaza this week. A terrorist armed with a hand grenade was arrested on Sunday after infiltrating into Israel from Gaza Strip, it was the first time in over a year that a terrorist managed to enter Israel illicitly.