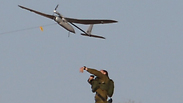 The Skylark drone used in search of abducted teens.
Photo: Gil Yohanan
IDF troops arrested 17 Palestinians in the West Bank overnight Tuesday, among them a member of the Palestinian Legislative Council, Khaled Ibrahim.

A video released by the IDF Spokesman's office shows the arrest of a Hamas operative, as documented by a Skylark UAV.

צילום: דובר צה"ל

The video shows a Paratroopers force raiding the home of a Hamas operative in Beit Awwa, north-west of Hebron.

Searches for the three abducted teenagers - Eyal Yifrach, Naftali Frenkel and Gil-Ad Shaer - have been focused on this area in the past week, and it is the same area from which the terrorist who murdered police commander Baroch Mizrahi on Passover eve originated.

The suspect from Beit Awwa started running when he noticed the IDF soldiers, and hid in a nearby house. The drone identified the path of escape and Skylark operators led the Paratroopers to the hiding place, where the suspect was arrested without resistance.

The artillery corps' Skylark drones unit's activity aiding ground troops was expected to continue in tandem with that of Air Force drones in day searches as well as in wooded, agricultural and urban areas.

Last Sunday, a Skylark drone fell on the roof of a house in a Hebron neighborhood. The Palestinian police confiscated it and later returned it to Israel. The drone, which crashed due to a technical malfunction, was damaged in the fall.

Skylark UAVs have been aiding ground forces during Operation Brother's Keeper. The latest version of the drone only went into action in recent weeks, and it includes means to balance the wings, that are meant to prevent a fall to the ground.

During the overnight raid, IDF troops located arms in the Jenin refugee camp. Palestinians clashed with IDF soldiers in Tulkarm, but no one was hurt in the incident.

A senior military source said the main search effort on Wednesday would focus in the area north-west of Hebron.