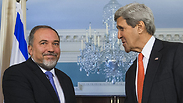 Kerry and Lieberman (Archive)
Photo: AFP
Foreign Minister Avigdor Lieberman was set to meet with US Secretary of State John Kerry in Paris on Thursday to brief him on the kidnapping of three Israeli teenagers. He was also scheduled to meet with his French counterpart Laurent Fabius.

Other topics on the agenda for both meetings include the Palestinian unity government and other regional issues, the Foreign Ministry said in a statement issued on Wednesday.

In the past few days, the foreign minister held conversations with many of his counterparts worldwide - including foreign ministers from Italy, Australia, Ukraine, Lithuania and Cyprus - about the abduction of Eyal Yifrach, Gil-Ad Shaer and Naftali Frenkel on June 12, urging them to condemn the kidnapping and the terror organizations that hail and support it.

Lieberman noted that their stand is important in the world's war against terrorism, because "radical Islamic terror does not distinguish between Western states. Its goal of kidnapping the teenagers in Gush Etzion is identical to its objective in terror attacks carried out in New York, London, Madrid, Brussels, and elsewhere."

Israel has accused the Islamist movement Hamas of being responsible for the kidnapping.

Hamas leader Khaled Mashal has claimed that the movement's political leadership had "no information" on the abduction, but said it "supports any act of resistance against the Israeli occupation, which must pay for his tyranny."